Duration: 13 Nights / 14 Days
Locations Covered: Chennai - Pondicherry - Tanjore - Trichy - Madurai - Trivandrum - Cochin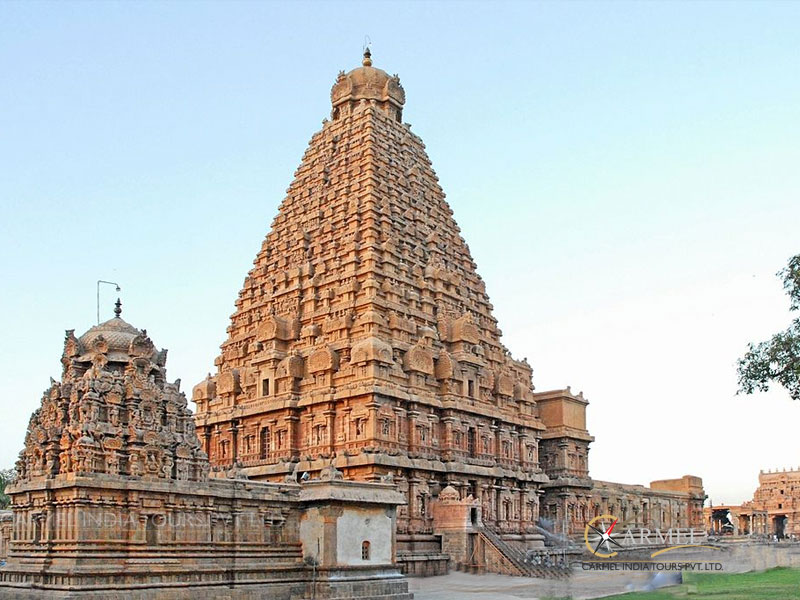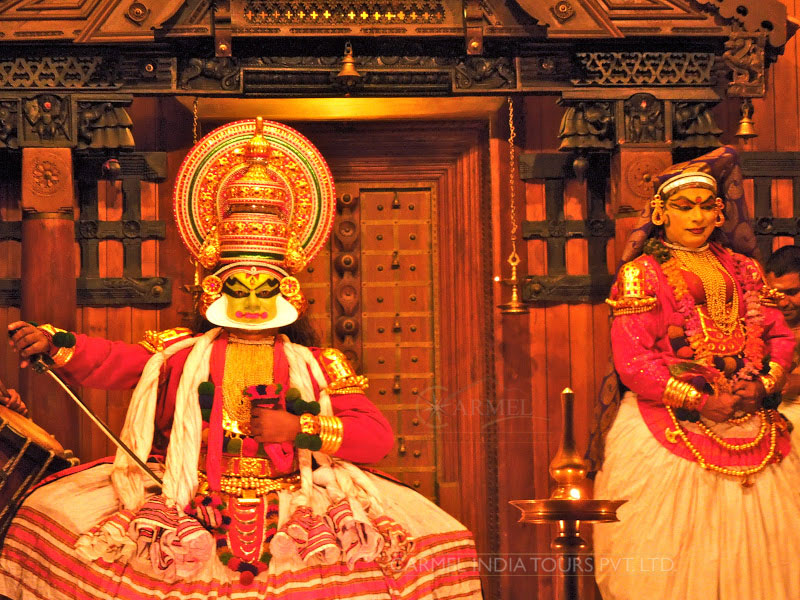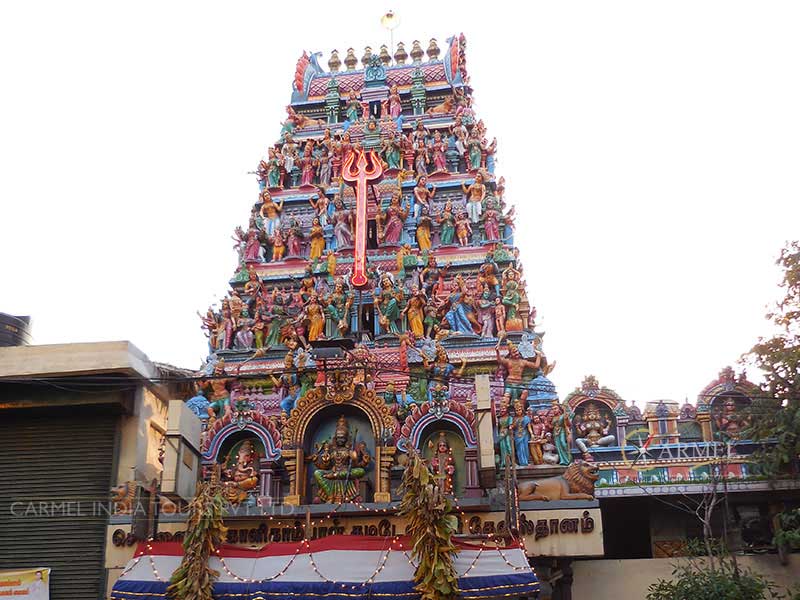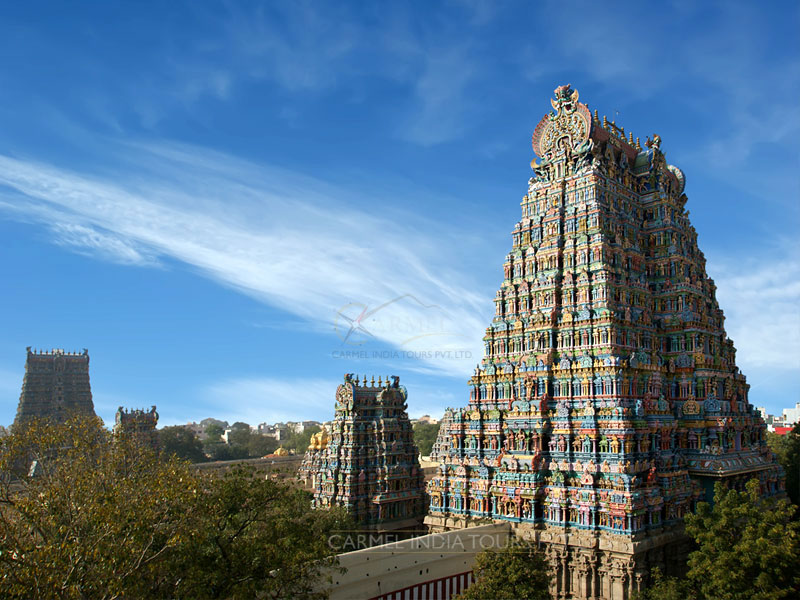 South India Temples Tour package covering the cultural heritage of south India with its richly carved temples - tour covers sightseeing in Chennai and visit to prominent temples of Chennai earlier called as Madras followed by Tirupathi temple, city of 1000 Temples Kanchipuram, Tiruvannamalai Temple, Aurobindo Ashram, temples in Chidambaram & Thanjavur, historic temples of Trichy, Madurai temples, Trivandrum, Kanyakumari and City Tour of Cochin. Get best holiday deals on South India temple Tour organized by Carmel India Tours. We provide the highest level of attention and detail for all travel arrangements.
South India Temples Tour Itinerary:
Day 01: Arrive Chennai
Welcome to the Capital of Tamil Nadu - Chennai earlier called Madras.. On arrival at Chennai International Airport, traditional Welcome with a bunch of flowers by our representative. Transfer to hotel. Chennai – developed in 1639 by the East India Company, is one of the oldest cities of the country. It is the gateway and the largest city in southern India located on the Coromandel Coast of the Bay of Bengal. Chennai is the Musical and Cultural Capital of India, known for its classical dance shows and spiritual centers, It offers a lot of things to visitors – whether it's shopping, sightseeing, dining, or experiencing the rich culture of South India. Rests of the day explore the Chennai. Have meal and stay overnight at hotel.
Day 02: Chennai
After breakfast proceed for optional, half day sightseeing tour, visiting the temples of the 8th century, Kapaliswara Temple and Sri Parthasarathy Temple built by Pallavas and visit one of oldest and biggest museum of India -Government Museum, Gandhi Memorial is a memorial built in the memory of late Rajiv Gandhi. In the evening visit the pride of Chennai, Marine beach. Alternatively take an Excursion to Tirupathi, (154kms/3.5hours) is a major pilgrimage and cultural hub in Andra Pradesh. It is famous for the richest temple Venkateswara Swamy temple (Tirupati Balaji Temple), dedicated to Lord Vishnu, located at the hilltop of the Tirumala hills. There are a number of temples to visit in Tirupathi like Sri Kapileswaraswami Temple, Sri Kodandaramaswami Temple etc. Later evening return to your hotel for dinner and overnight stay.
Day 03: Kanchipuram
This morning Proceed to take excursion to Kanchipuram / Mamallapooram Kanchipuram ( 76 kms/01.50 hrs ) – is the ancient capital of the Pallavas famous as a city of 1000 Temples and still has 124 shrines. Kanchipuram or Kanchi, one of the seven sacred cities of India has magnificent temples of unique architectural beauty is the evidence to its glorious Dravidian heritage. It is also known as Kanchiampathi and the nickname "The City of Thousand Temples". Visit three of the best temples—Kailasanatha and Ekambareshwara and Vaikuntaperumal. This afternoon visit 'the city of Mamalla', Mamallapooram a World Heritage site famous for its architectural marvel of Dravidian style includes Buddhist elements and sculpted rock panels. Visit the Shore Temple dedicated to lord Shiva, Five Rathas or Pancha Pandava Rathas, Thirukadalmallai temple an example of Indian rock-cut architecture at Mammalapuram.Overnight stay and dinner will be at hotel.
Day 04: Tiruvannamallai Drive to Tiruvannamallai (112kms/03hrs)
Tiruvannamalai Temple pilgrim centre with one of the greatest ancient temple of Lord Shiva, spreading 24 acre temple campus which attract number of pilgrims every full moon. Visit Arunachaleswarar temple located in the Arunachala Hills of Thiruvannamalai dedicated to Lord Shiva, Maharshi Ramana ashram and Seshadri Swamigal Ashram. Proceed to Pondicherry (131kms/ 3.5hrs), a beautiful and well planned city also known as "The French Riviera of the East" -which carries a strong whiff of the French presence in India. The colonial government buildings, the beautiful avenues and the old cottages make this modern city as a colonial charm. On arrival check in and overnight at hotel.
Day 05: Aurobindo Ashram
Drive to visit Aurobindo Ashram, the city of dawn, which is 10kms north of Pondicherry, developed by the great Indian philosopher Aurbindo Ghose in the year 1926. This ashram promotes Aurbindo's ideas in bringing about a combination of Yoga and modern science. After lunch at hotel, visit Auroville – a unique experiment in universal living and in creating a new environment where men and women of all countries live together in harmony. In the evening visit the Thirukaameeswarar Temple one of the ancient and beautiful temples in its locality and take a walk at Pondicherry Beach and enjoy the coolest air of the Bay of Bengal. Return to your hotel for dinner and overnight stay
Day 06: Chidambaram
Drive to Chidambaram (65kms/1.5hrs) is an important pilgrim centre for Shaivites and known for its famous Nataraja temple also called as Thillai.Where the dance of Lord Shiva has been frozen in metal. After lunch, drive to Thanjavur (104kms/03hrs) enroute visiting the Brass factory at Kumbakonam and see how to decorate the items like sculptures, statues of lords through the Brass. Tanjore once the capital of Chola Kings, located on the eastern coast of TamilNadu. Tanjore known as' the rice bowl of Tamil Nadu', famous for its arts and paintings which are illuminated in the dark room. In the evening visit the most famous Brahadeeswarar Temple (or the big temple of God) constructed by the King Rajarajan more than thousand years ago. On arrival check in and overnight at hotel.
Day 07: Trichurapalli
After breakfast leave for Trichurapalli, (54kms/02hrs) commonly known as Trichy is located on the banks of the Kaveri River. It has many historic temples, monuments, churches and mosques and a huge outcrop of rock. It is famous for the Ranganath temple, is of particular significance to all Hindus at Srirangam. Check in at hotel. After lunch city tour visiting Rock fort and its temple at a height of over 23mts, is one famous landmark in Tiruchirapalli Also visit Srirangam surrounded by the waters of the River Kaveri on one side and Jambukeshwar Temple, these Lord Shiva temple is a fine example of beautiful architectural design. Visit Gunaseelam Vishnu and Vayalur Murugan ancient temple of Trichurapalli.In the evening take a tour of Mukkombu a popular picnic spot. Return to your hotel for dinner and overnight stay.
Day 08: Madurai
In the morning, a Climb of 434 steps lead to the ancient temple of Ganpati at Trichy and Proceed to Madurai (133kms/3.5hrs) Situated on the banks of river Vaigai and one of the largest cities of Tamilnadu. The temple city of Madurai means "sweetness" is a historical city, referred to as the 'Athens of the East' for their architectural Meenakshi Temple Meenakshi Temple magnificence and rich cultural heritage. Now it is famous for the finest textiles in India along with some of the best harvests of jasmine flowers. On arrival check in at hotel. After lunch city tour visit the great Meenakshi Temple dedicated to the consort of Lord Shiva. Later, visit the Triumala Nayak Place-A beautiful building in the Indo saracenic style. Also visit the Gandhi Museum, is a memorial museum for the Father of the Nation. In the evening visit Athisayam park for water rides and return to your hotel for dinner and stay overnight.
Day 09: Madurai
This morning starts your tour of Madurai visit Azhakar Kovil temple, Vandiyur Mariamman Teppakulam pond and Thirupparamkunram Murugan Temple. Or (Excursion-Rameshwaram, 154kms/04hrs) Optional -you may take excursion to Rameshwaram is one of the famous pilgrimage place. It is the sacred island, where Lord Rama built a bridge across the sea to Lanka to rescue his wife Sita, from the King Ravana, also known as the 'Benaras of the South'. Rameshwaram is famous for its beautiful beaches. Visit RamanathaswamyTemple, famous for six times pooja on a daily basis and Agnitheertham, a beautiful lake, Located in front of the eastern side of the Ramanathaswamy Temple. Later visit RamjharokaTemple, situated on the Gandamadana Parvatham which is the tallest spot in Rameshwaram and Adam's Bridge or Ram Setu, built by Lord Rama which connects India to Sri Lanka. Return to Madurai for overnight.
Day 10: Trivandrum Madurai/Trivandrum (329 kms/08.50 hrs)
Drive to Trivandrum the capital of beautiful Kerala also known as Thiruvananthapuram, lies in the southwest coast of India, derives its name from Thiru Anantha Puram. Trivandrum is a beautiful seaside city built on seven hills, has a prominent history. The sun kissed beaches, superb artwork and age old palaces makes Trivandrum the perfect destination for tourists. On arrival Trivandrum check in at hotel. Afternoon at leisure. Overnight stay at hotel
Day 11: Kanyakumari
After breakfast this morning visit the major landmark of the Trivandrum like the ancient temple of Sri Padmanabhaswamy, built in the Dravidian style and Napier Museum, large collections of bronzes, historical ornaments, temple chariots and ivory items. Proceed for Kanyakumari (Excursion Kanyakumari – 87 kms/02.00 hrs) is the terminating point of the Western Ghats and Eastern Ghats. It is situated at the meeting point of the three bodies of water: the Arabian Sea, the Gulf of Mannar and the Indian Ocean. Kanyakumari lies in the southernmost tip of India, famous for its ancient temples, virgin beaches and majestic hills. Visit the Temples of Kanyakumari, famous the beauty of their architecture. Visit the Kumari Amman Temples, the Gandhi Memorial, built in the semblance of a temple and Vivekananda Rock Memorial. Evening enjoy the beautiful sun set and later return to Trivandrum for overnight.
Day 12: Cochin
This morning Proceed for St Francis Church, Cochin St Francis Church, Cochin Cochin by road Arrive and check in at hotel. Kochi is the most modern city of Kerala is referred to as the Gateway to Kerala, situated on the south-west coast of the Indian peninsula in the breathtakingly scenic and prosperous state of Kerala, known as 'God's Own Country'. Cochin is most popular tourist place in the world famous for waters of backwaters, coconut trees lining the glassy lake waters, ancient churches, Dutch buildings, Portuguese artistic and British monuments. Evening Enjoy a Kathakali dance performance near your hotel. Overnight stay at hotel.
Day 13: Cochin - Chennai
After breakfast proceed for a guided tour of Fort Cochin, oldest European settlement in India and the Jew Street in Mattancherry. Visit the Chinese fishing nets at Fort Kochi, introduced by the Chinese, splendid Bolghatty Palace, located on the Bolghatty Islands, century's old churches and colonial buildings etc. Afternoon transfer to airport for flight to Chennai. Arrive Chennai and transfer to hotel for overnight.
Day 14:
Transfer to airport for flight back home.
Book South India Temples Tour package
We offer best deals on South India temples tour package of Chennai - Pondicherry - Tanjore - Trichy - Madurai - Trivandrum - Cochin, send us an enquiry or contact us to prepare a custom South Indian temples tour package for you.