Tiger Safari Kanha and Bandhavgarh
Duration: 8 Nights / 9 Days
Locations Covered: Delhi - Khajuraho - Bandhavgarh - Kanha - Nagpur - Delhi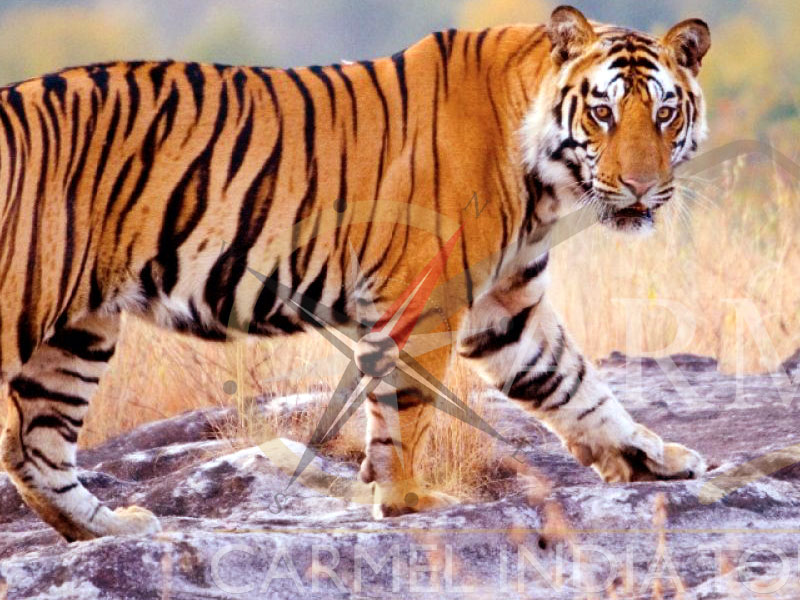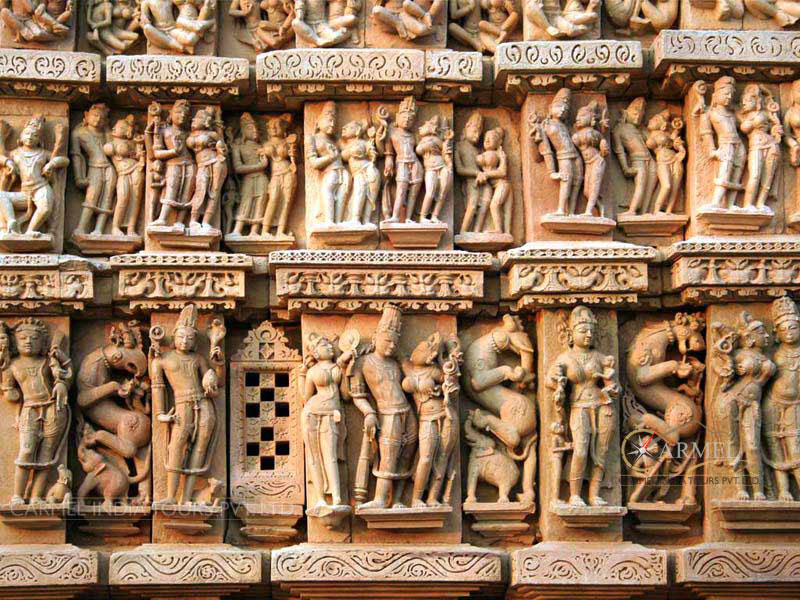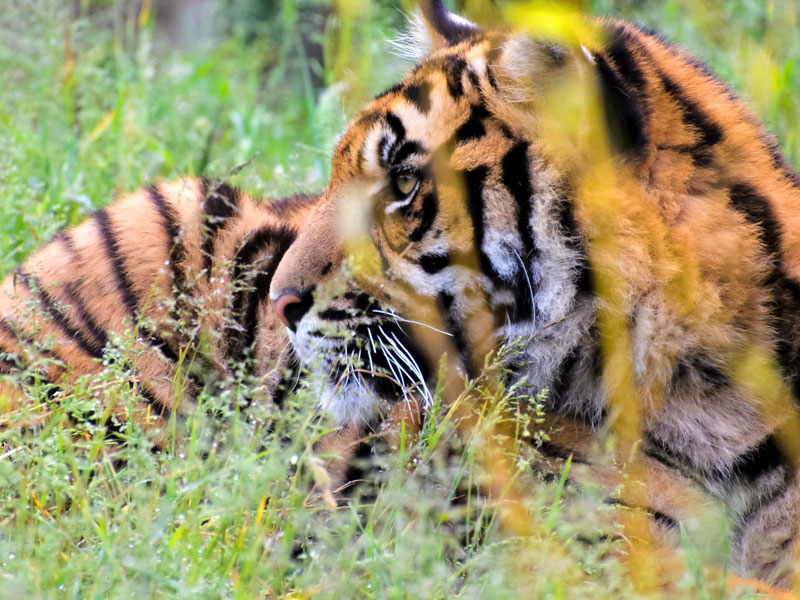 This tour of Bandhavgarh National Park and Kanha Tiger Reserve is specially prepared for tiger safari lovers. Also included is a visit to Khajuraho India's most popular tourist destinations. Khajuraho is famous throughout the world for its medieval Hindu temples and more so for its erotic sculpture
Day 1: Delhi Welcome to Delhi, on arrival at Delhi Airport, you are welcomed by our representative with a bunch of flowers and transfer you to your hotel. Delhi is the capital of India, also known as the heart of India. The city has two distinct parts, Old Delhi & New Delhi. This magical city blessed with superb collections of Mughal and British eras historical monuments, museums and galleries, shops and endless bazaars. The capital city of India, Delhi made up of seven ancient cities. Visit the tallest stone tower in India, Qutub Minar. Indian Gate , Built as a memorial of India soldiers killed in World War. The Red Fort built by the Mughal Emperor, Shahjahan and designated as the UNESCO World heritage site. Humayun's Tomb, great example of Mughal architecture. Also visit Connaught place, the shopping centre of New Delhi. Dinner and overnight stay at your hotel.
Day 2: Delhi – Khajuraho In this morning you are transfer to Delhi airport to board flight to Khajuraho. Khajuraho is Located in the Chhatarpur District of Madhya Pradesh at a distance of 385 miles from Delhi, is one of India's most popular tourist destinations. Khajuraho is famous throughout the world for its medieval Hindu temples and more so for its erotic sculpture. The erotic carvings sketch the life of the gods and goddesses. On arrival and check-in the hotel. Relax for the remaining part of the day and stay overnight.
Day 3: Khajuraho – Bandhavgarh After breakfast proceeds for a City tour of Khajuraho visit the world famous Khajuraho temples were built by the Chandela kings between 950 AD and 1050 AD. The most important are the Chaunset Yogini Temple dedicated to Goddess Kali, the Mahadev Temple dedicated to Lord Shiva, Chitragupta or Bharatji Temple with a lovely image of 11 headed Vishnu. Later visit the Lakshmana Temple Dedicated to Vaikuntha Vishnu, Devi Jagadambika temple or Jagadambika temple of a group of about 25 temples in Khajuraho is a World Heritage site. Also visit the Eastern group of temples that consist of the Parasvanath Temple – the only Jain Temple surviving at Khajuraho and has excellent sculptures on the outer walls of the Sanctum, the Javeri Temple dedicated to Vishnu. Later afternoon drive to Bandhavgarh and transfer to hotel. Relax for the remaining part of the day.
Day 4: Bandhavgarh Today you will get an early wakeup and after having your breakfast get ready to explore Bandhavgarh. It is the most ideal destination for the enthusiastic tourists to appreciate the wildlife. Bandhavgarh is also known as White Tiger territory which attracted lot of attention for the number of Tigers one would see in each Safari. Indian bison, chital and langurs. Besides these, nilgais, chausingha, chinkara, wild boars and jackals can also be found in the park. Bandhavgarh flaunts a very deep-seated significance of its own in the history and mythology of India. Visit Bandhavgarh Fort, located inside the park, was constructed by the Maharajas of Rewa this fort gives a panoramic view of the wildlife reserve. Also enjoy FLORA and FAUNA in Bandhavgarh. Dinner and overnight stay at your hotel.
Day 5: Bandhavgarh This morning have your breakfast, you are Full day free to explore Bandhavgarh National park. Bandhavgarh Safari offers lifetime experience to watch wildlife from close. Being located at Vindhya Mountains, you can enjoy Tiger Show which is organized when tiger is somewhere away from main safari track. As a part of elephant safari offered in the park, tourists can view a tiger from the elephant back. Elephant & Jeep Safari enables tourists to spot 22 species of mammals and 250 species of birds, take you even closer to the nature and to see the majestic tigers found in the park. In the evening get back to your hotel, enjoy your dinner and stay overnight.
Day 6: Bandhavgarh – Kanha This morning after breakfast drive to Kanha. Kanha Village is an admirable eco friendly retreat for nature lovers. Its Kanha National Park is one of the most beautiful forests of the world, Spread over 4.5 acres. Kanha National Park is one of the most famous habitats of the tiger in the whole world. The park is situated amongst the Banjar and Halon valleys of the state of Madhya Pradesh. Kanha National Park of India is known for its tiger population, apart from the tiger, a number of other animals are also found here, such as Leopard, Blackbuck, Barasingha, Chausingha, Sambar, Barking Deer, Langur, etc. For the visitor on wildlife safari it is a unique experience to stay in this ethnic tribal village. Reach in the afternoon, check in at your resort and relax at the hotel for rest of the day.
Day 7: Kanha Get up early morning and start for full day jeep safari at Kanha national park and spot the Sher Khan (the tiger). After lunch set out once again for the jungle safari and see the most striking feature of this region like the open grassy meadows, where sighting blackbuck, swamp deer, sambar and chital together is not uncommon. In the evening see the heightened attraction within the Park is Bamni Dadar, popularly known as Sunset Point that offers the most awe-inspiring backdrop of the sunset against grazing Sambhars and Gaurs, magnifying the natural splendour of the area. Dinner & overnight stay at resort.
Day 8: Kanha – Nagpur This morning after breakfast drive to Nagpur situated at the Nag River, also known as orange City because of the hi-class mandarin oranges grown here. It is made of several interesting monuments and natural treasures. Reach & check into your hotel. In the evening spend some time at Futala Lake and view the beautiful sunset over the mountain. Dinner & overnight stay at Hotel.
Day 9: Nagpur – Delhi by flight This morning after breakfast transfer to Nagpur airport to catch flight for Delhi. Reach Delhi International airport to board the flight for your onward journey to back home with sweet and unforgettable memories of your tour escorted by Over Team.
Please contact us for booking Tiger Safari at Bandhavgarh National Park and Kanha Tiger Reserve or or contact us to prepare a custom wildlife tour package of Bandhavgarh & Kanha Tiger reserve.