Duration: 14 Nights / 15 Days
Locations Covered: Delhi - Bandhavgarh National Park - Khajuraho - Orchha - Agra - Karauli - Ranthambore National Park - Delhi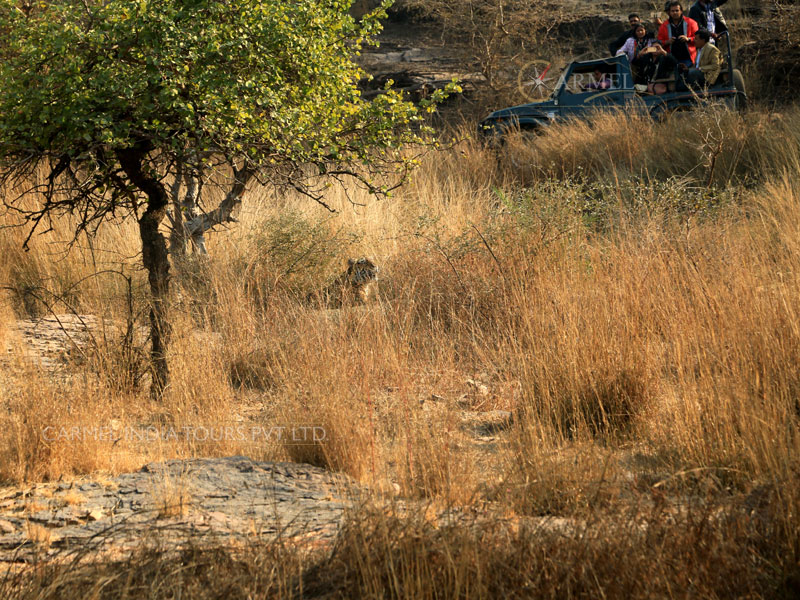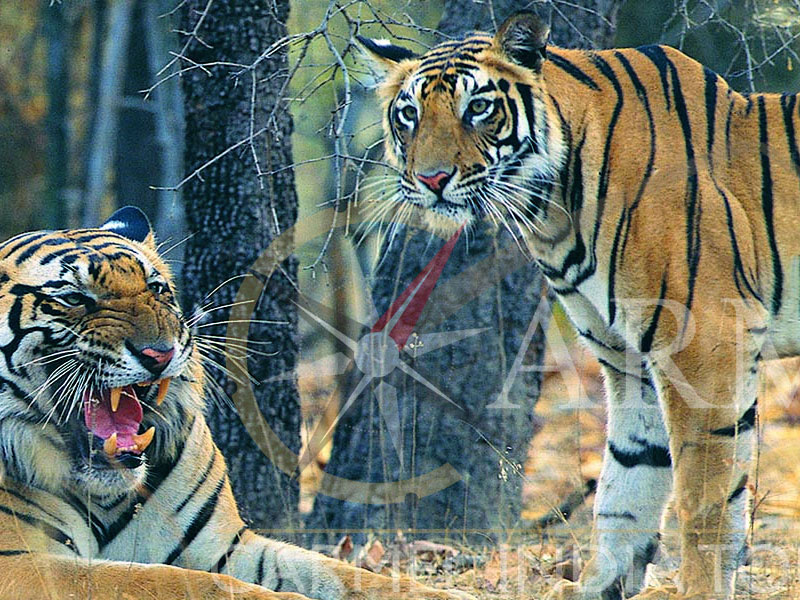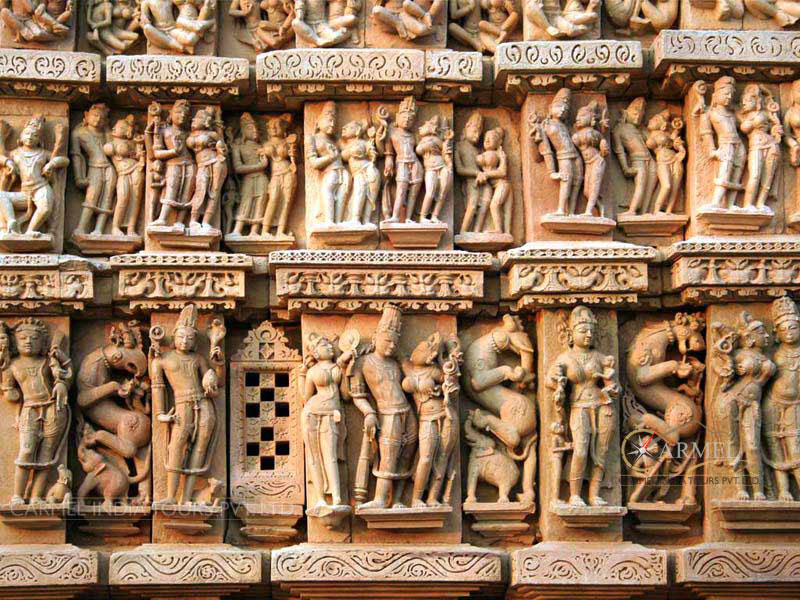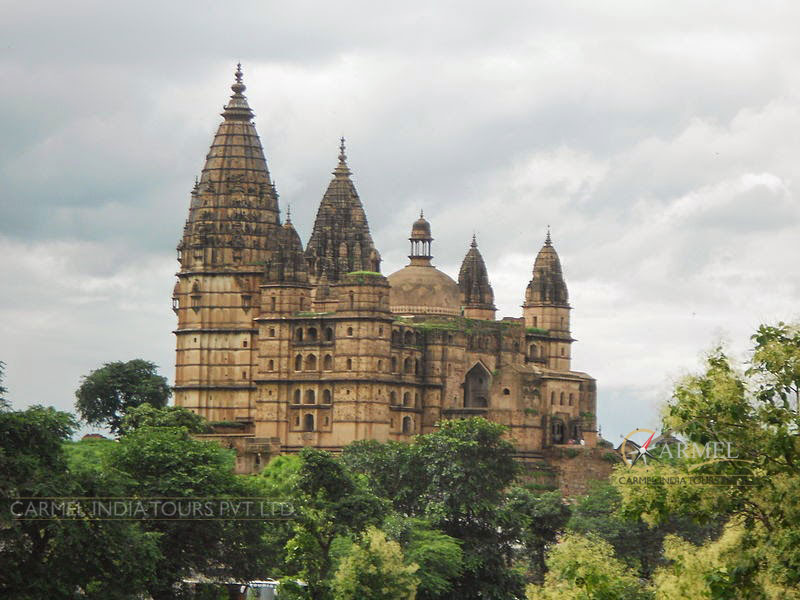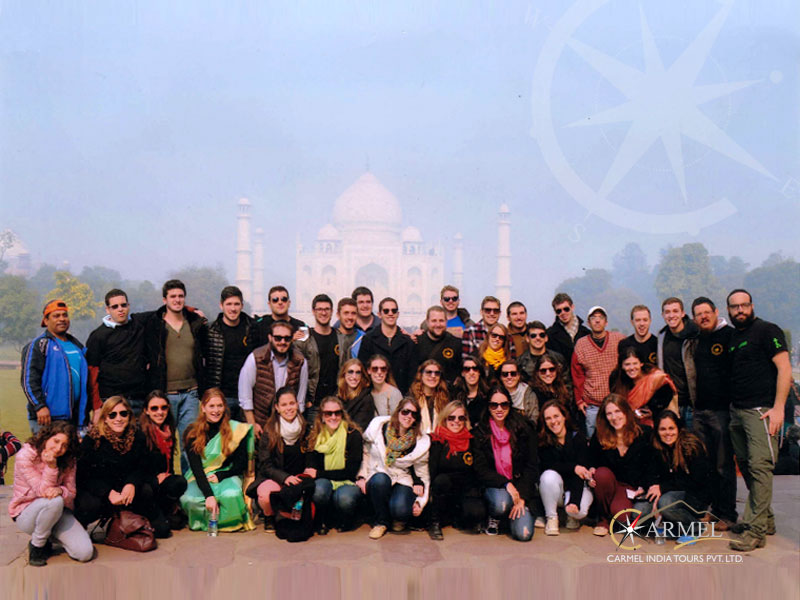 Tiger Safari in Bandhavgarh National Park & Ranthambore National Park
Tiger Safari India Tour package taking you to top tiger safari wildlife sancturies and tiger reserves in India - Bandhavgarh National Park, Ranthambore National Park along with leisure tour to popular tourist destinations enroute: starting from Delhi and also including Khajuraho - Orchha - Agra - Karauli.
Tiger Safari in India Travel Itinerary
Day 1: Delhi
Welcome to India! On arrival at International airport the guest will welcomed with the fragrances of flowers by our representative; from there you will be transferred to your hotel and rest of the day is leisure so you can explore the old and New Delhi Delhi, capital city of the Federal Republic of India is one of India's most fascinating cities. A combination of twist, glamour, diversity and sprit. The city has two distinct parts; Old Delhi & New Delhi. The beauty & serenity of Old & New Delhi lies inside the courts of the main monuments. Its boutiques and shopping gallery offer access to a wealth of traditional and contemporary crafts, from all over the country.
Day 2: Delhi
This morning after breakfast at Hotel and then leave for full day guided sightseeing of Old and New Delhi visiting Raj Ghat – Crematory of Mahatma Gandhi, Birla Temple – Famous as swami narayan temple, Presidential House, India Gate, Government buildings & Qutab Minar and enjoy rickshaw ride in narrow passage of old Delhi through Kinari Bazaar and old Chandni Chowk.Return to your hotel for dinner and overnight stay.
Day 3: Bandhavgarh National Park
This morning fly to Bandhavgarh National Park, one of the most popular national parks in the Indian state Madhya Pradesh. Bandhavgarh National Park belongs to the Vindhyan mountain ranges of central India. Bandhavgarh is known as the Royal Bengal Tigers for the highest population of Tiger in India. Now there are about 46 to 52 tigers one can spot here. Bandhavgarh national park consisting a wide variety of animals and birds. On arrive check in at wildlife resort. Relax for some time and in the afternoon start for game drive at the tourism zone of Bandhavgarh national park. Overnight stay at resort.
Day 4: Bandhavgarh National Park
Start your new day with nature and captured the imagination of many wildlife and breathtaking landscapes. So be ready to explore the wilderness of Bandhavgarh National Park in open jeep & elephant back. Enjoy the Bird watching with more than 140 bird species and old Bandhavgarh fort located on the Bandhavgarh hill, Baghel Museum and visit Village Tala, where the pace of life is still measured by the rhythm of the seasons and Climber's Point – Nature's Beauty. After full day for Jungle activities return to your resort enjoy dinner and stay overnight.
Day 5: Khajuraho
This morning drive to Khuajuraho, the capital of the Chandela kings and famous for its ancient temples presenting erotic carvings of the Kama Sutra. The temple city of central India is famous throughout the world for its beautiful carved temples in stones. The temples of Khajuraho are brilliant examples of medieval Indian architecture and they are spread in middle of lakes and fields in the area. The existing Khajuraho temples are divided into three groups – western, eastern, and southern. The western group is most famous and it is designated by UNESCO as a World Heritage Site. On arrival you will be transferred to your hotel. Relax for some time and in the afternoon visit the Khajuraho Group of Monuments in Khajuraho like the Western Group of Temples, Sculptures on these temples are the biggest of all tourist attractions in Khajuraho, Eastern group of temples, the Jain groups of temples and Panna National Park etc are beautiful place to visit in Khajuraho. Later evening Return to your hotel enjoy dinner and overnight stay there.
Day 6: Orchha
This morning proceed to Orchha by car on arrival you will be transferred to your hotel. This historical city located on the banks of Betwa River, founded by the Bundela Rajput chieftain Rudra Pratap.it is one of the most famous destinations in Central India for cultural holidays and architectural tours is really a unique experience for the visitors. Stroll through rural areas largely untouched by modern life and explores the palaces and temples of Orchha. This afternoon visit, Orchha fort complex, located on an island on River Betwaand, and visit a unique papermaking plant and in the evening perhaps take in the puja ceremony at Ram Raja Temple. Later evening Return to your hotel enjoy dinner and overnight stay there.
Day 7: Orchha
After breakfast, today you can enjoy a full-day at Orcha to explore this charming small town steeped in history at your own pace. Visit Buglamukhi Devi Temple, Siddhapeeth of Shri Peetambra Devi, the Phool Bagh is a laid garden of Orchha, The Raj Mahal or 'Raja Mahal' the royal residence of former kings, The Ram Raja Temple where Lord Rama is worshipped as a king, the massive Lakshmi Narayan Temple and the Sunder Mahal is another popular palace and an architectural marvel of Orchha. After this memorable tour return to your hotel have meal and stay overnight.
Day 8: Agra
Early morning transfer to the city of the Taj, Agra. Packed with historical monument, grand architecture, art, culture that speaks of the city's history. It is a great example of architecture translated in to beautiful monuments inspired by Moorish and Mughal architecture, full of lawns, pools, fountains and pavilions with beautiful interiors that take you back to the golden age of Emperors and Princes. Here you can get the view of famous historical monuments which enhance the beauty of Agra. On arrival you will be transfer to your hotel for some relax. This afternoon visit the wonderful Taj Mahal of Agra, built by former emperor Shah Jahan in honor of his true love. Then jump in a rickshaw to see the monumental 17th-century Agra Fort, Shah Jahan's Agra home and Sikandra Fort. In the Evening attend a breathtaking musical stage of audio-visual effect, which follows the 'Saga of Love' that inspired the Taj Mahal and return to your hotel, have dinner and stay overnight.
Day 9: Karauli
Rural Heritage Stay This morning drive to Karuakuli, the small town shares its borders with Madhya Pradesh, Dausa, Dhaulapur and Sawai Madhopur.It is famous for peaceful environmental wealth and breathtaking monuments and Countless great antiquated shrines, beautiful decorated havelis and imprinted chatrris dot, the whole city that shows the true old Rajasthani style of construction. The fortified city of Karauli is surrounded by Red sandstone walls with bastions for security. On arrival you will be transfer to your hotel after some relax ready for the Sightseeing of Karauli Places like Bhanwar Vilas Palace a classical buildings with royal style and antique, City Palace located nearby River Bhadrawati, Kalyanji Temple,the temples of Madan Mohanji and Kalyanji and the Kaila Devi Wildlife Sanctuary. In the evening walk around the delightful village and learn about rural Indian life. Return to your hotel for dinner and overnight stay.
Day 10: Ranthambore National Park
After visiting this rural heritage now get ready to move to Ranthambhore National Park. Arrive Ranthambore and check in at wildlife resort. Ranthambore National Park was the hunting ground of the Maharajas of Jaipur, located at the junction of the Aravalli and Vindhya hill range. It is one of the finest tiger reserves of India and considered the best place to spot a tiger in his own natural habitat. It has six man-made lakes and many perennial streams add to the beauty of the national park. Ranthambore Sanctuary acquired the status of a National Park covering almost 400 sq km of area and declared as the Tiger Reserve in India; currently the tiger count in the park is around 35. Rest of day leisure to enjoy the activities at resort. Overnight at Ranthambore.
Day 11: Ranthambore National Park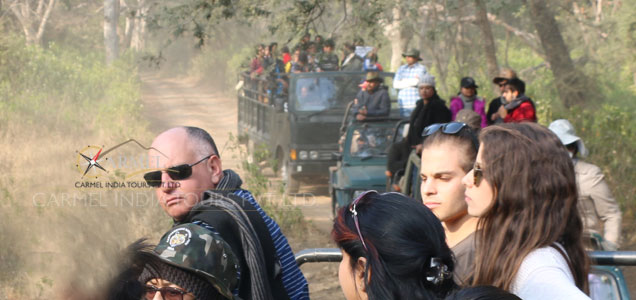 Get up early in the morning and start for jeep safari at Ranthambore national park. Ranthambore national park has different safari zones and each zone has a lot to offer by richness of wildlife. Afternoon you can visit Ranthambore palace and enjoy camel cart ride to the nearby village. After this exploration, you will be taken back to the hotel for lunch. Hereafter, you will be visiting the temple situated at the top of the Fort in the middle of the park and the lively town. Besides the wildlife, there are also lake palaces, 'chhatris', old fortifications, and a wonderful 1,000-year-old fort area throughout the park. Return to your resort for dinner and overnight stay.
Day 12: Ranthambore National Park
This morning leave for pink city, Jaipur. On arrival you will be transfer to your hotel. Jaipur is the capital of the state of Rajasthan a romantic kingdom of resplendent palaces, mighty fortresses and regal Maharajahs that lies in the western deserts and is a perfectly unique part of India. It is popularly known as the Pink City because of the pink walls and building of the old city attracts visitors with its massive remnants of an ancient era, and the flurry of daily life made more remarkable by its friendly people. This evening, visit the Birla Temple to learn more about the fascinating religious life of Jaipur and return to your hotel have dinner at Choki Dhani and stay overnight there.
Day 13: Ranthambore National Park
After breakfast proceed for a morning excursion to Amber Fort and enjoy Elephant ride at the fort. This ancient fort offers a fascinating insight into the lifestyle of the Mughal ruling families. Visit the City Palace a magnificent mixture of Mughal and traditional Rajasthani architecture, Hawa Mahal – The decorative front of this "Palace of Winds" is a famous landmark in Jaipur. The "Jal Mahal" or "water place" where you can enjoy boat ride and Jantar Mantar an Astronomical Observatory. In the evening choose to shop for gems, pottery and textiles in the colourful bazaars or join the vocal audience at a Bollywood film and return to your hotel for dinner and overnight stay.
Day 14: Delhi
This morning derive to the capital of India on arrival check into hotel and enjoy free time to see Delhi's sights. Humayun's Tomb boasts beautiful early Mughal architecture – and the surrounding garden is a watering place of calm amid the chaos of the city. After lunch starts a sightseeing tour of Old Delhi including the Red fort also known as Lal Quila and find a quiet corner in India's largest mosque of India also visit the parliament house and Akshardham Temple. Later evening returns to your hotel enjoy the delicious meal and stay overnight there.
Day 15: Delhi
This morning proceed for International airport to catch flight for onward destination. Proceed with the sweet memories of the tour.