Chittorgarh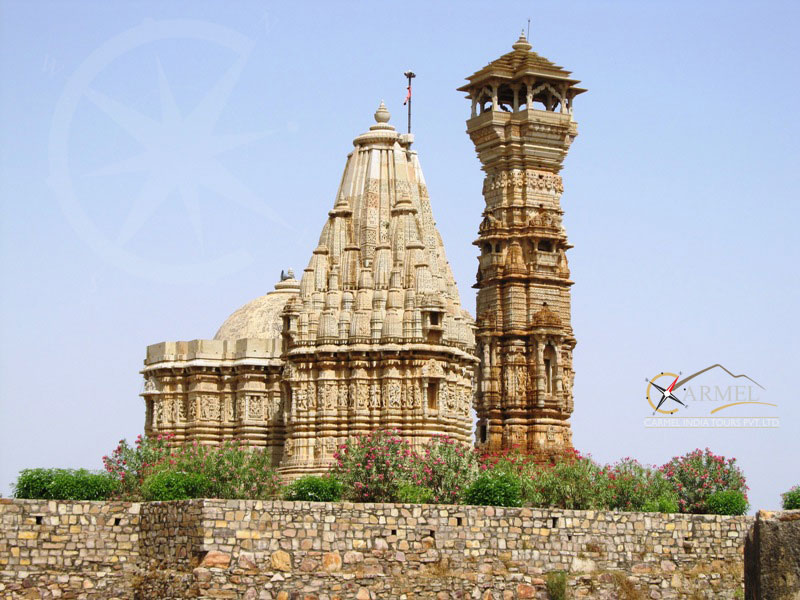 About Chittorgarh
Chittorgarh is one of the ancient cities of the desert state Rajasthan of western India, is located on the banks of river Gambhiri and Berach. It is a World Heritage Site. Chittorgarh is home to the largest fort in India Chittorgarh Fort. This city is considered as an epitome of love, pride, romance and spirit.

According to the history, it is considered that Chittor was built by the Maurya dynasty and recived by Bappa Rawal as a part of the dowry after marriage with the last Solanki princess. It was first attacked by Alauddin Khilji Sultan of Delhi, in 1303 A.D, who was enamoured by the beauty of queen Padmini, but the queen chose death in place of dishonor and committed suicide called ?Jauhar?. In 1533 A.D. Jauhar was again committed by women folk led by Rani Karnawati, when this city was attacked by Bahadur Shah, the ruler of Gujarat. In 1535 A.D. and the third time after the Mughal Emperor Akbar captured Chittorgarh in 1568 A.D.

The city annually hosts the biggest Rajput festival the 'Jauhar Mela', to commemorate the bravery of Rajput ancestors and all three Jauhars, happened at Chittorgarh. Chittorgarh is also known as it links with two famous historical figures of India. The first is the most famous female Hindu spiritual poetess and most passionate worshipper of lord Krishna, Meera Bai.Second one is Maharana Pratap, the greatest hero in the Rajput history. He was the person of values and never compromises his honour and dignity.
Best Places to Visit in Chittorgarh
Chittorgarh Fort
The Chittaurgarh Fort was constructed during the period of Mauryan emperors, in 7th century. It is a beautiful structure that stands on 180 m high hill, covers an area of 700 acres. The Vijay Stambh, Kirti Stambh, Fateh Prakash Palace and Rani Padmini?s Palace, located within the fort, are known for their rich architecture and exquisite interior decor.

Vijay Stambh
Vijay Stambh was built by Maharana Kumbha to commemorate his victory over the Muslim rulers of Malwa and Gujarat in 1440, is a huge nine storey tower. The tower is visible from any section of the town below as it is 122 ft (37 m) high and stands on a 10 ft (3.0 m) high base. There are sculptures and carvings on the exterior walls of the tower.

Kirti Stambh
Kirti Stambh was built by a merchant and is decorated with figures from the Jain pantheon. It is dedicated to Rishabha, the first Tirthankara of Jainism.It is a seven storied pillar.

Rani Padmini?s Palace
Rani Padmini?s Palace is situated at the southern end of the Kali Mata Temple. Earlier, the palace was referred to as the Mardana (Men) Palace. It is Palace is from which Alauddin Khilji was allowed to watch a reflection of the Rani by replacing the mirror at such an angle that even if he turned back he could not see the room.

Chittaurgarh Museum or Fateh Prakash Palace Museum
The Chittaurgarh Museum is Inaugurated in the year 1968,it is a collection of some magnificent collection of war weapons like daggers, shields, swords, Farsa, axes, helmets and armors, clay models of the tribes of the area, these models are clad with traditional outfits and jewelleries.

Kalika Mata Temple
This 8th century temple was Previously dedicated to Lord Surya, the Kalika Mata Temple of Chittaurgarh was transformed into a temple of Goddess Kali.It is an excellent architectural example of the Pratihara Period, pleases not only the religiously inclined people but also creates interest among the art lovers and general tourists.

Meera Temple
The temple was constructed during the rule of Maharana Kumbha, the Rajput king. It was dedicated to Mira Bai, one of the prominent participants in the Bhakti Cult movement.It is is one of the religious places to see in Chittaurgarh.There is a collection of paintings of Lord Krishna and Meera Bai offering prayers to the Lord.

Rana Kumbha Palace
Rana Kumbha Palace is one of the biggest monuments in Rajasthan, is a fine specimen of Rajput architecture.It is in this palace the Rajput King Maharana Kumbha lived his royal life. The palace is believed to have underground cellars and folk stories woven around it says that it is in these cellars Rani Padmini and other women folks in the royal palace performed Jauhar.

Sitamata Wildlife Sanctuary
It is known as Sitamata Wildlife Sanctuary because it is believed that Lord Rama?s wife Sita, stayed in this forest in the ashram of Saint Valmiki.It is spread over a wide region on the Malwa Plateau and Aravalli mountains. There is flying squirrel, spotted deer, wild bear, four horned antelope, nilgai, jungle cat, jackal, hyena, etc and is known for the forests of teak, bamboo, tendu, amla and salar. Three rivers of which Jakham and Karmoi are famous pass through these areas. Jakham dam is a site for picnickers and the water is used for irrigation.

Bhainsrodgarh Wildlife Sanctuary
Bhainsrodgarh Wildlife Sanctuary was recognized in 1983 as a wildlife sanctuary, it is located within an ancient fort in a small charming village.It is a place for nature lovers and a wonderful haven for the variety of flora and fauna.There is various kind of animals and birds including antelopes with four horns, wild boar, chinkara, deer, panther, jackal, hyena, fox and migratory birds.

Kumbha Shyam Temple
Kumbha Shyam Temple was constructed by Maharana Kumba within the fort of Chittorgarh. it has its own simplistic beauty and charm with the numerous sculptures of the Hindu Goddesses and Gods. It is famous for its religious and historical importance.

Kalika Mata Temple
It is the oldest temple in Chittorgarh of 8th century.It is dedicated to the Goddess Kalika, considered the benefactor of Chittorgarh. Initially it was a Sun temple built by King Bappa Rawal during the 14th century, Maharana Hamir Singh,great worshiper of Goddess Kalika dedicate the temple to Goddess Kalika.
Best time to visit Chittorgarh
During summers, the maximum temperature of the city remains on the warmer side and the temperature remains in between the range of 23 degree C to 44 degree C. It is a time one can enjoy the indoor activities in Chittorgarh. The minimum temperature of this glorious city remains in between 11°C to 28° C. The climate is quite pleasant and it is a perfect time for one to enjoy the outdoor activities.

Best time to Visit Chittorgarh
The best time to spend a fulfilling holiday in Chittorgarh is during the winter time (December to February). At this time of the year, the weather is pleasant and ideal for sightseeing and enjoying the various activities Chittorgarh has to offer.
How to Reach Chittorgarh
By Road
Chittorgarh is well connected to all parts of India by roads. The Golden Quardilateral Road Project and North-South-East-West corridor expressway passes through Chittorgarh City. There are good bus services (Private as well as government) available for Delhi, Mumbai, Ahamadbad, Ajmer, Bundi, Kota, Udaipur and other major cities.

By Train
Chittorgarh railway station is a busy junction of western Indian railways. It has direct rail links with all major north Indian cities including Mumabi, Delhi, Ahmedabad, Ajmer, Udaipur, Jaipur and Kota.

By Air
The nearest airport is Udaipur (Dabok Airport). The airport is located 70 kilometers from Chittorgarh and linked by daily Air Service from New Delhi, Jaipur, Jodhpur, Ahmedabad and Mumbai.