Alwar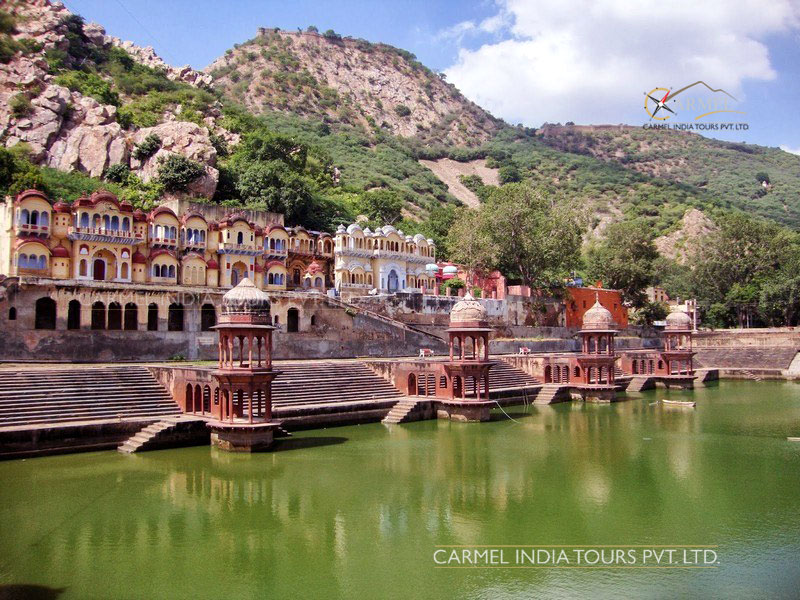 About Alwar
Alwar is situated in the Aravali hill range, spreading over an area of 237 meters in the Indian state of Rajasthan. It is also known as the gateway of Rajasthan. This city has a rich natural heritage, some beautiful lakes and thickly wooded valleys.
Alwar was founded by Pratap Singh, a Rajput and a member of the Kachh family, although it was famous for its fighters who were always ready to sacrifice their lives for their motherland. For a long time it remain under the rule of Rajputs. In 1803, after the battle of Laswari, Alwar became the first state of Rajputana which sign a treaty with the East India Company namely 'Offensive and Defensive Alliance'. In 1947 after the independence of India, Alwar was merged with the princely states of Karauli, Bharatpur and Dholpur and form the Matsya Union. In 1949 this Matsya Union was merged with Rajasthan.

According to the Hindu mythology the early history of Alwar is the basis of the great epic Mahabharata, as the battle between the Kauravas and the Pandavas is said to have taken place in Alwar.

Alwar is a best tourist destination as it has a rich natural heritage with some beautiful lakes, picturesque valleys and one of the finest wildlife sanctuaries in Rajasthan. It is also famous for famous for its grand palaces, magnificent temples, glorious cenotaphs, and towering forts.
Best Places to Visit in Alwar
City Palace
City Palace is the most attractive place of Rajasthan, Built by Maharaja Vinay singh in the 18th Century.This place was built in the Rajput and Mughal styles of architecture with marble pavilions with bases made of lotus flower in the large central courtyard.

Bala Quila
Bala Quila is also known as ?young fort?; Alwar Fort.It is situated over a hill top. The fort is located at a distance of 595 m and is clearly visible from the city. It is a large fort extends from north to south and from east to west is 5 km and 2 km, respectively. It has many other structures inside it such as the Nikumbha Mahal Palace, which is built of Bengal caned marble pillars and balconies with lattice designs.

Siliserh Lake
Siliserh Lake was built in 1845 AD by Maharaja Vinay Singh. It is spread over an area of 7 sq km; the Siliserh Lake forms the backdrop of Siliserh Palace. Fishing in the lake is a major activity.

Vinay Vilas Palace
Vinay Vilas place was built by Maharaja Vinay Singh as his residence, reflects the combination of Mughal and Rajasthani styles of architecture.It is also known as the Garden Palace. This place also has a huge garden which was watered by the waters of the Siliserh Lake.

Moosi Maharani ki Chhatri
This is an elephant structured design tomb of Maharaja Bhaktawar Singh and his queen Rani Moosi, built on pillared sandstone. It was built by Maharaja Vinay Singh. The Chhatri is located in a surrounding full of greenery and variety of flowers in the garden which is located on the banks of Lake Sagar.

Vijay Mandir Palace
Vijay Mandir Palace is located 10 km away from the city centreit was built by Maharaja Jai Singh, in 1918, and was designed like a ship. There is a temple inside the premises dedicated to Lord Rama and his wife Sita.

Tomb of Fateh Jung
This monument is also known as Fateh Jung Ki Gumbaj, is dedicated to Fateh Jung, who was a minister in the court of Shah Jahan.

Purjan Vihar
This place was built during the time of Maharaja Mangal Singh. Purjan Vihar has a portion where there is a canopy of trees not allowing any sunlight to enter, thus keeping the surroundings cool.

Garbhaji Falls
It is a majestic waterfall and located near Alwar town. Garbhaji waterfalls are the ideal place for nature lovers and photographers to spend some time. Museum, City Palace, Sariska Tiger Reserve and Flying Fox Neemrana are some of the other important tourist attractions located close to the Garbhaji Falls.
Best time to visit Alwar
Best Season to visit Alwar is during October to March offering cool breeze and pleasant climate and suitable for sightseeing.
In summers (April to June) maximum temperature of 41 degree C and minimum of 28 degree C. Winters (November to February) are cool and pleasant with minimum average reach down to 8°C approximately.
How to Reach Alwar
By Air
The Nearest airport to Alwar is Jaipur International Airport, Sanganer. Alwar is well connected to several major cities such as Udaipur, Kolkata, Mumbai, Jodhpur and Delhi.

By Train
The railway station of Alwar is established in the heart of the city. It is well connected to other cities like New Delhi, Jodhpur and Mumbai etc.

By Road
Alwar is well-connected to all cities in Rajasthan by state-owned bus services. It is also connected with other cities like Mumbai, Kolkata, Jodhpur and Udaipur by Rajasthan State Transport Corporation and some private travel services.