Rajasthan Taj Mahal Khajuraho Tour
Duration: 19 Nights / 20 Days
Locations Covered: Delhi - Mandawa, Bikaner - Jaisalmer - Jodhpur, Ranakpur - Udaipur, Chittorgarh - Bundi - Karauli - Jaipur, Bharatpur - Fatehpur Sikri - Agra - Gwalior - Orcha - Khajuraho - Delhi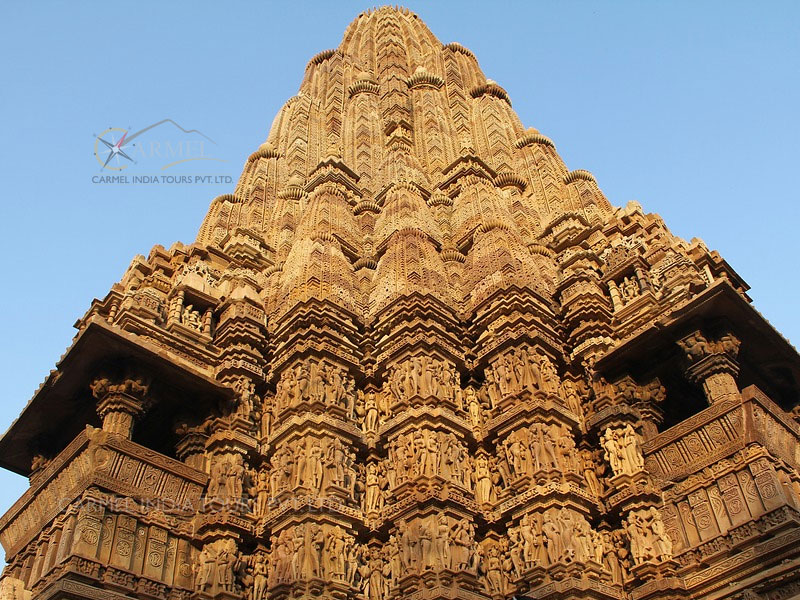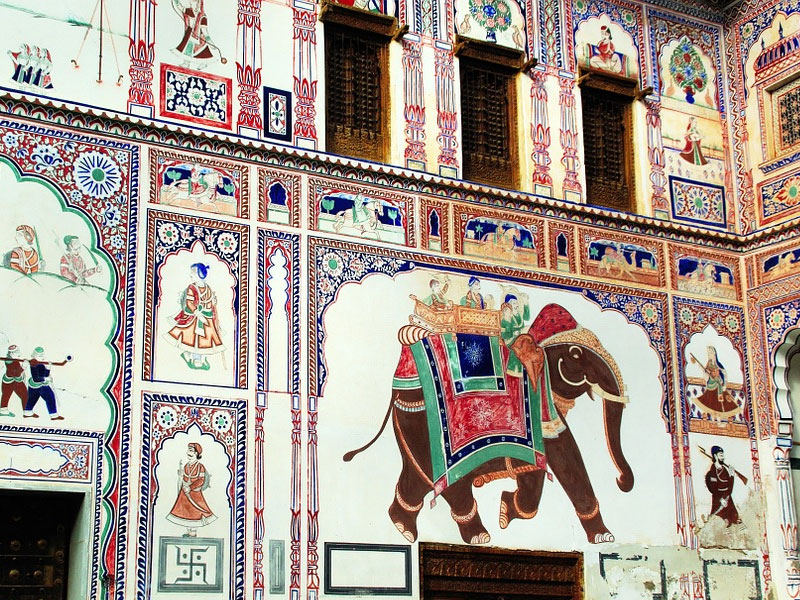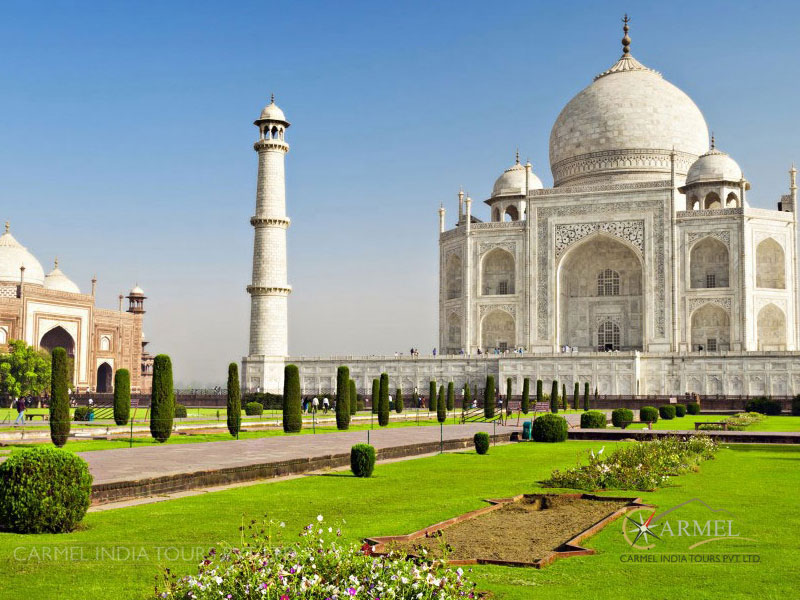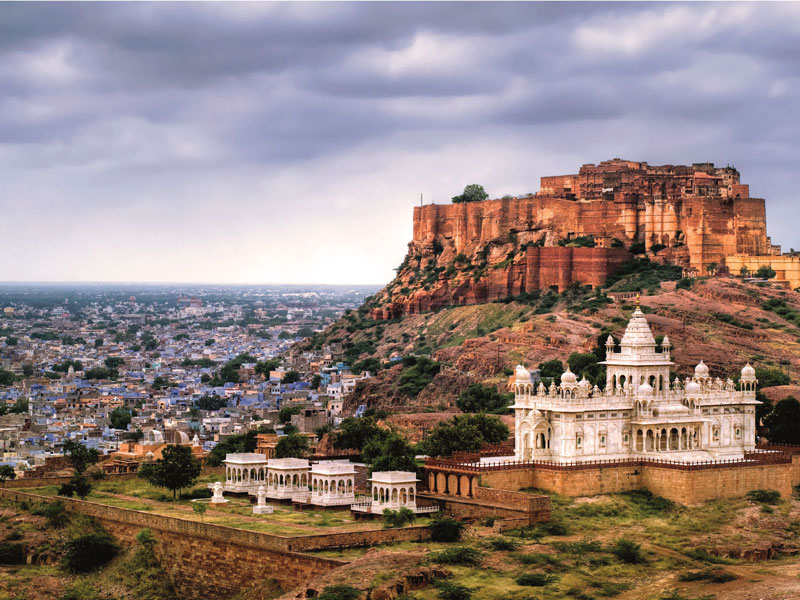 This India tour of Rajasthan with a visit to Agra, Gwalior, Orcha and Khajuraho is a very popular tour of India. Travel to Rajasthan and other magnificent destinations in India including, Delhi, Agra Taj Mahal in a 19 Nights / 20 Days tour packagelets you explore best iof North India travel attractions, covering Delhi - Mandawa, Bikaner - Jaisalmer - Jodhpur, Ranakpur - Udaipur, Chittaurgarh - Bundi - Karauli - Jaipur, Bharatpur - Fatehpur Sikri - Agra - Gwalior - Orcha - Khajuraho
Day 01: Delhi
Arrive Delhi and transfer to the hotel. Once check in hotel guests will be served welcome drinks. Overnight stay at the hotel in Delhi.
Day 02: Delhi
Morning after breakfast complete day sight seeing of Delhi. The places covered include Jama Masjid, Raj Ghat, Akshardham Temple, Birla Mandir, Lotus forehead, Qutub Minar, Parliament house and President house. Night dinner and over night stay at the hotel.
Day 03: Delhi to Mandawa ( 60 kms./ 6 hours)
After breakfast drive to Mandawa. Mandawa is a part of Shekhavati, a region once on the silk route on China. The place is spiritually very rich and houses are traditionally decorated with ancient paintings. Arrival in Mandawa will be in the late afternoon, after reaching check in to hotel followed with welcome drink. Freshen up and proceed for half day Mandawa sight seeing tour. Night stay at hotel in Mandawa.
Day 04: Mandawa to Bikaner (175 kms./ around 5 hrs.)
After breakfast drive to Bikaner. On arrival check in at pre-booked hotel in Bikaner. After this we proceed for a city tour visiting Lalgarh Palace, Junagadh Fort, Camel farm and temple of Karni Mata. Overnight stay would be at resort.
Day 05: Bikaner to Jaisalmer (around 360 kms./ 7 hours)
Early morning after breakfast drive to Jaisalmer which is at by road. Jaisalmer is one of the awesome cities within Rajasthan, it has wide wasteland having very unusual town. On arrival we would check in at resort which is named as History Inn or Palace Mahadev Structure which is a three start hotel. Evening tea and snacks followed by night dinner will be provided. Overnight stay at restore will be arranged.
Day 06: Jaisalmer
In Jaisalmer start early for Camel Safari Camel. Enjoy Full day sightseeing and delicious mouth watering lunch. Evening relaxe and then we will visit sand hills and relish the camel journey with a golden sunset. Overnight stay at the hotel/resort in Jaisalmer.
Day 07: Jaisalmer - Jodhpur (around 288 kms. / 6 hrs.)
Early morning drive to Jodhpur after breakfast. Jodhpur, the second largest city in Rajasthan, and it at the edge of the Thar Desert. After reaching Jodhpur we would check in to pre-booked hotel in Joodhpur. Relax in the evening followed by dinner. Night stay at your hotel in Jodhpur.
Day 08: Jodhpur - Ranakpur - Udaipur
Morning breakfast in the hotel and then drive to Udaipur via Ranakpur which is on the way. Ranakpur is well famous for its renowned marvelously designed Jain temples. All these temples are constructed with amber yellow stone. Ranakpur is one of the five holy places of the Jain community. On reaching Udaipur check in to the hotel in Udaipur, evening free, dinner & overnite stay in the hotel.
Day 09: Udaipur
Morning after breakfast half day sightseeing tour of Udaipur. Places covered include City Palace, art gallery and Jagdish Temple, and after finishing our lunch we will visit Eklingji and Nagda Temples. Overnight stay at the hotel in Udaipur.
Day 10: Udaipur - Chittorgarh - Bundi (270 km)
Breakfast in the hotel, checkout and drive to Bundi via Chittorgarh - a small town well known for its historic past. See the Vijay Stambh, Kriti Stambh and Padmini Palace in Chittorgarh. On reaching Bundi we would check in at the hotel. Overnight stay in the hotel at Bundi.
Day 11: Bundi
Morning after finishing the breakfast we will have walking tour at Bundi, as it is a small town the best way to see all places in by walk. Places to see include Taragarh Fort, vegetable and local market. Overnight stay at hotelin Bundi.
Day 12: Bundi - Karauli Karauli (around 280 kms. / 6 hrs.)
Early morning after breakfast in the Hotel drive to Karauli, a beautiful small city in Rajasthan. Karauli has a world famous Krishna temple. Bhanwar Vilas Palace which is an ancient palace, where we arranged our guests stay for the night (if pre-booked).
Day 13: Karauli to Jaipur (around 160 kms. / 4 hrs.)
Morning after breakfastdrive to Jaipur, the capital of Rajasthan, also known as pink city. The state is Indian at its unique and brilliantly colored best. It has awesome buildings of the old days. Overnight at hotel in Jaipur.
Day 14: Jaipur
There are lot to see in Jaipur forts, places; start early for the full day sightseeing after Visit Amer fort, Jantar Mantar, Birla Mandir, go shopping buy souveniors.. Overnight stay at hotel in Jaipur.
Day 15: Jaipur to Bharatpur (around 210 kms. / 5 hrs.)
After breakfast / checkout and from Jaipur drive to Bharatpur. Bharatpur is popular for its small rodent Santuary and Deeg Palace. Relax in afternoon then evening we will start our visit to Keoladeo National Park & Bird Sanctuary. Overnight stay at the hotel in Bharatpur.
Day 16: Bharatpur to Fatehpur Sikri - Agra (around 60 kms. / 1 hr.)
Morning after finishing breakfast we will proceed towards Agra via a quick tour to Fatehpur Sikri. On arrival transfer to your pre-booked hotel in Agra, relax for some time then we visit The Taj Mahal. Overnight stay at hotel in Agra.
Day 17: Agra to Gwalior then to Orcha
Morning after breakfast / check-out from Agra drive to Orcha is 240 kilometers by road, takes around 6 hours. While going to Orcha we will get Gwalior on the way. On arrival in Orcha we would check in at hotel/resort, followed by full day sightseeing in Orcha covering all historical places within the city.
Day 18: Orcha to Khajuraho (around 190 kms. / 5 hrs.)
Early morning after breakfast drive to Khajuraho. On arrival check in at pre-booked hotel in Khajuraho, Khajuraho Temples, UNESCO world heritage site is a world famous tourist attraction. People across the globe come and visit this place every year. Relax for the day followed by dinner and overnight stay at the resort.
Day 19: Khajuraho
Morning after breakfast, in Khajuraho visit world famous the Khajuraho Group of Monuments in Khajuraho like the Western Group of Temples, designated by UNESCO as a World Heritage Site, Eastern group of temples. Dinner & Overnight stay at the hotel in Khajuraho.
Day 20:Khajuraho - Delhi
After breakfast, at lesisure and then transfer to airport fo flight to Delhi and transfer to the hotel or proceed to onward destination.
Tour of tourist attractions in Rajasthan, Agra, Orcha & Khajuraho ends!