Orchha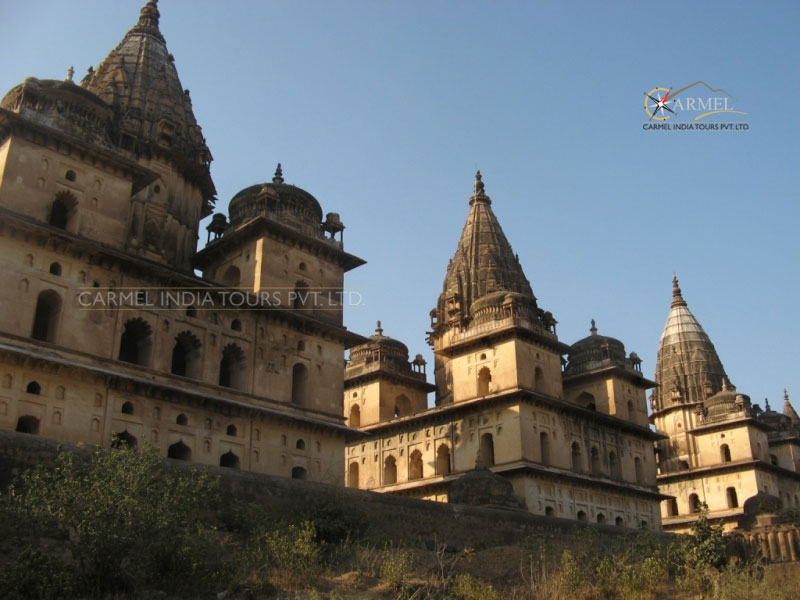 About Orchha
Orchha 'A treasure of spiritual peace', is a small town in Tikamgarh district of Madhya Pradesh near the banks of Betwa river. The word Orchha means 'hidden'as It is a hidden archaeological legacy of medieval India. A visit to this beautiful town will give you a quick look of a bygone era, it shows the 'India of the Maharajas' as well as the challenges that young people, farmers and workers face in India today.

This picturesque city was founded in 16th century A.D. by Rudra Pratap Singh, a Rajput ruler belonging to the Bundela Dynasty. Orchha has witnessed lots of ups and downs of time. In the early 17th century, the Mughal Emperors ruled over it. In the 18th century, Orchha was the only Bundela states not subjugated by the Marathas. In the year1874, Maharaja Pratap Singh, Hamir Singh?s successor ascended to the throne of Orchha, under his rule that Orchha experienced the maximum development and in the beginning of the 20th century,it became the most prosperous state. Finally after independence, in 1956 Orchha became a part of the State of Madhya Pradesh.

Presently, it is an interesting destination with a small population, rich architectural heritage and tourism.
Best Places to Visit in Orchha
Phool Bagh
This Bagh was built as a memorial for prince of Orchha, Dinman Hardaul. The Phool Bagh is a laid garden of Orchha and carries the testimony of the highly polished aesthetic sagacity of the Bundelas, who used to rule this small palace. Dinman Hardaul?s Palace is also situated near this garden.

Jahangir Mahal
The Jahangir Mahal also known as ?Rani Mahal? is situated in the fort complex of Tikamgarh District of Orchha and is particularly famous for its paintings and architecture. The Mahal is a three-storied one with hanging balconies, terraces, apartments, and onion domes forming part of its structure.

Raj Mahal
This palace is located at the right of quadrangle and was built in the 17th century by Madhukar Shah, who was a religious predecessor of Bir Singh Ju Deo. The Raj Mahal also referred to as ?Raja Mahal?.

Ram Raja temple
According to a legend, the site of this temple used to be a palace of the ruler of Madhukar Shah. It is also said that the idol of Lord Rama placed itself in the temple and cannot be moved.

Lakshmi Narayan Temple
Lakshmi Narayan Temple was built by Vir Singh Deo, in 1622. The temple is dedicated to Goddess Lakshmi, who is the Hindu goddess of wealth.

Rai Parveen Mahal
The Rai Parveen Mahal is a double storied brick building and was built by Raja Indramani in mid 1670s and dedicated to a poetess named Rai Parveen. The surroundings and structure of this palace include lawns, gardens of Anand Mahal, assembly hall for music and dance shows and underground apartments.

Chattris
These Chattris are basically the tombs of Maharajas that have been placed on elevated platforms and supported by pillars, situated on the banks of River Betwa. This whole structure contains total 14 Chattris that are placed in a row.

Chandreshekhar Azad Memorial
The Chandreshekhar Azad Memorial is the martyrdom of freedom fighter Chandrashekhar Azad, situated in the Tikamgarh District of Orchha.

Sunder Mahal
It is dedicated to the love story of Prince Dhurbhajan who was a Hindu and his Muslim lover. Even today, Muslims come to this palace to seek blessings from the revered soul of Prince Dhurbhajan, to get eternal happiness in their love life.
Best time to visit Orchha
The climates in Orchha are both hot and cold. In summers, the temperature rises to about 48° C and minimum temperature is about 25 °C. Winters during December to February are pleasant within a temperature range of 9 °C to 25 °C.

Best time to visit Orchha
Best time to visit is October to March. March and April provide eye catching view of landscape adorned with colors of palash blossoms.
Bastar-Dussera days during September ? October are very attractive with processions and illuminations. Nine days festival is accompanied by fairs and cultural programs.
How to Reach Orchha
By Air
Gwalior is the nearest airport to Orchha (116 km). Flight services are available to Khajuraho, Delhi and Varanasi. Delhi, 440 km away from Orchha, is the major international airport, which is connected to all major cities in India and many cities in abroad.

By Train
Jhansi railway station, 16 km away from Orchha, is the nearest railway station. Jhansi is situated on the major rail route and there are regular train services to the major cities in India. Direct train services are available from Delhi, Mumbai and Agra.

By Road
Many private and Government Transport bus services are available to reach Orchha from Jhansi (16 km). Orchha is well connected by buses with Bhopal, Delhi, Varanasi, Khajuraho and Gwalior. Super fast, Tourist A/C and Deluxe buses are available these cities to reach Orchha.