Mandu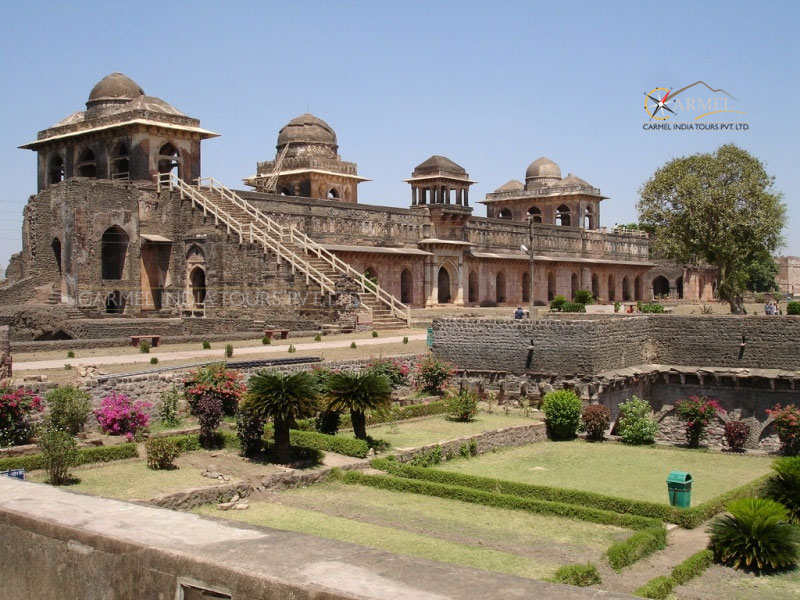 About Mandu
Mandavgarh Popularly known as Mandu, is a ruined city which is situated in the Malwa region of western Madhya Pradesh, India. The city was once called Shadiabad, meaning the 'City of Joy'. Mandavgarh is well known for its fort which is the biggest fort in India with baths, pavilions, ornamented canals and the ruins of palaces.

Mandu was founded in the 10th century as the fort capital by Raja Bhoj. Later it was overcome by Muslim sultans of Delhi. The city is also famous for the historical love tale of Rani Roopmati and Baz Bahadur. Baz Bahadur was the last Sultan of the state who ruled from 1555 to 1562.Once he was out hunting, where he found Roopmati, singing as she bathed in the Narmada River. He was instantly fantasized by the beauty and voice of Roopmati and married her. Thereafter in 1561 Akbar's general, Adham Khan, attacked Mandu and captured it. When the Mughal general waited outside the Roopmati?s room to claim her, roopmati poisoned herself. This tragic love story was full of music, poetry, romance, war and death.
Today, Mandu is famous for its awesome Islamic architectural buildings and monuments; it's amazing Fort is the main attraction for tourists which was once the monsoons retreat of the Mughal emperors. Mandu is also famous for its ?Khusrani Imli?, juicy custard apples, Colorful textiles and fabrics.
Best Places to Visit in Mandu
Jahaz Mahal
Jahaz Mahal, also known as the Ship Palace. The two storey palace lies between two artificial lakes, the Munj Talab and the Kapur Talab. The palace has open pavilions, an open terrace and balconies.

Rupmati Pavilion
Rupmati Pavilion, originally built as an army observation post, is a huge sandstone structure situated south of the Baz Bahadur Palace. It is also an ideal place for watching the sun set over the River Narmada.

Lohani Cave & temple ruins
These caves are located on the way from Mandu village to Royal Enclave. These caves are ordinary excavations without much of carvings and without any inscription.

Hathi Pol
This is called Hathi Pol, on account of two elephant images flanking on either sides. These elephants were broken down by Aurangzeb in later period.

Darya Khan?s Tomb
Darya Khan?s Tomb, located near the Hathi Mahal in Mandu, is known for its decorated intricate patterns on mosaic tiles.

Hindola Mahal
Hindola Mahal, also known as the Swing Palace, is situated in Mandu. It has been named as Hindola Mahal due to the sloping side walls. It is a T-shaped structure with crossbars in the exterior walls.

Dai ka Mahal
Dai ka Mahal, also known as the Nanny?s Palace, was a residence of women who were hired for looking after the infants of the Mandu rulers.

Hoshang?s Tomb
Hoshang?s Tomb is considered to be the first Indian marble monument. The tomb is square shaped and is situated near the Jami Masjid, in the Mandu City.

Rewa Kund
Rewa Kund, a small reservoir constructed by Baz Bahadur, was used for supplying water to Rupmati Pavilion.

Jami Masjid
Jami Masjid is a huge mosque, inspired by the great mosque of Damascus. It is situated on a high ground with a plinth and a domed porch in the centre. The tomb lies right in front of the Hoshang?s Tomb, in Mandu.

Baz Bahadur?s Palace
The palace lies just below the Rupmati?s Pavilion and has high terraces and large halls. It has been built in the traditional Afghan architectural style and is a reminder of the tragic love story of Rani Rupmati and Baz Bahadur.

Dilawar Khan?s Mosque
Dilawar Khan?s Mosque is one of the earliest Indo-Islamic structures at Mandu. The mosque has a central entrance, corridors on three sides and a prayer room.

Rupayan Museum
Rupayan Museum, an ethnographic museum, preserves crafts and tools of the local people of Mandu.

Chhappan Mahal Museum
Chhappan Mahal Museum is situated inside the 16th century Chhappan Mahal, this heritage building belonged to the Puar Dynasty of Dhar and was converted into a museum for displaying the rich cultural and tribal history of the region.
Best time to visit Mandu
Mandu experiences a tropical climatic condition all through the year. Summers (March to June) in Mandu are slightly hot, but overall pleasant due to its elevated position. The temperature ranges from 35°C to 20°C during summers. Winters (October to February) are cool and pleasant. Maximum day time temperature is 22°C and temperature drops down to a minimum of 7°C during nights. Monsoons (July to September) have medium level annual rainfalls.

Best time to visit Mandu:
Mandu is accessible to tourists for most time of the year. However, the best time to visit Mandu is during the winter time. At this time of the year, the weather is pleasant and ideal for sightseeing and enjoying the various activities Mandu has to offer.
How to Reach Mandu
By Air
Indore Ahilyabai Holker Airport is the nearest airport to Mandu. Mandu is about 100 km from the airport. Indore is a domestic terminal which is connected to Delhi, Mumbai, Pune, Jaipur and Ranchi. Delhi is the major international airport connecting to many major cities abroad.
By Train
Nearest railhead is Ratlam railway station, which is about 125 km away from Mandu. This station is well connected to the rest of the major cities in India and is an important junction in the western railways. Direct trains are available from Delhi (Nzm Garib Rath), Mumbai (Mumbai Rajdhani) and Kolkata (Garbha Express).
By Bus
State owned buses connect many cities in Madhya Pradesh to Mandu. Many private bus services are available from major cities in India to Mandu. Regular deluxe and semi deluxe buses are available from Indore (100 km), Bhopal (278 km), Ratlam (125 km) and Ujjain.