Khajuraho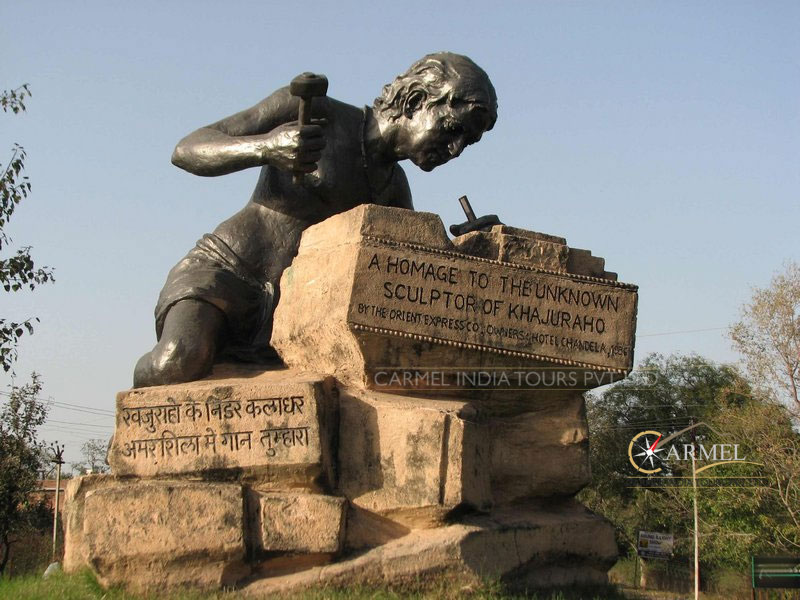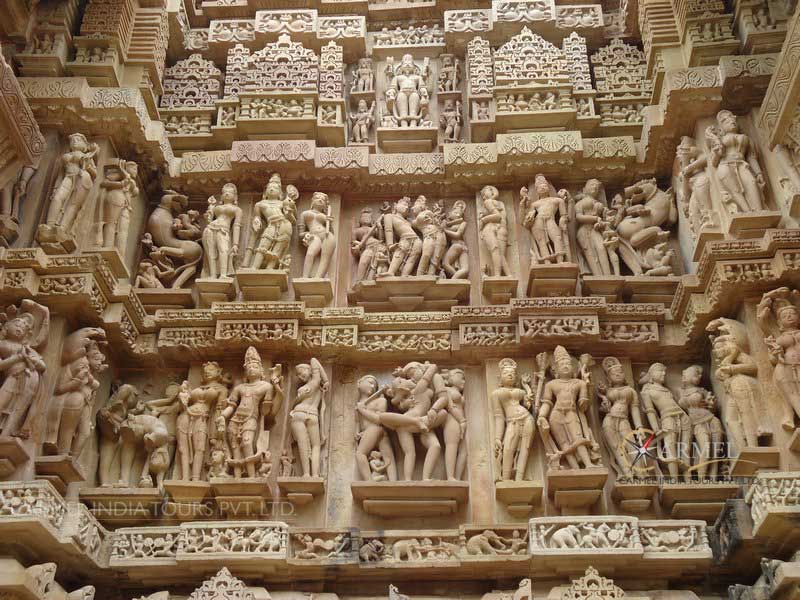 About Khajuraho
A UNESCO world heritage site Khajuraho, is a small town located, located in Chhatarpur District, in the Indian state of Madhya Pradesh. Vindhya Range of mountains as its beautiful backdrop makes Khajuraho a more fascinating destination to visit. Khajuraho is famous for the Kamasutra temple dedicated to Shiva, Vishnu, and Jain deities, and erotic rock carvings both inside and outside the temple. It is believed to have had over 85 temples of which 22 have survived the ravages of time. The temple art of khajuraho is a presentation of the soul of the philosophy of Indian beauty. The temples of Khajuraho are much different from any other temples of India as they are not about religion and worshipping and deities, but are famous for the eroticism etched on its walls in the form of sculptures.

According to legends, Khajuraho was founded by Chardravarman. It is said that the Moon God seduced a beautiful Brahmin girls, Hemvati. Resulting in the birth of Chandravarman, Later, and Chandravarman became a mighty king of the Chandela dynasty and heeding to his mother's wishes he built 85 legendary temples surrounded by lakes and gardens at Khajuraho, which would reveal all aspects of the treasure of passion and erotic fantasy to the world. After fall of Chandella dynasty, the temples of Khajuraho suffered destruction by muslim invaders and away from popularity till it was re-discovered by T. S. Burt, a British engineer.

At present the temples of Khajuraho serves as the fine examples of Indian architectural styles that depict the sexual life during medieval times.
Best Places to Visit in Khajuraho
Vishwanath Temple
The Vishwanath Temple is dedicated to Lord Shiva and located on the north-eastern corner of the western group complex. It is Famous for its sculptures and the temple is a 6 ft high Nandi bull, which is seated on top of a wide platform with a sphinx-like expression.

Chitragupta Temple
The temple is dedicated to Sun God and located eastwards facing the direction of the rising sun. Adorned with beautifully carved walls, intricate carvings of processions, dancing girls, elephant fights and hunting scenes are also done of the interiors of the temple.

Kandariya Mahadev Temple
This temple is dedicated to Lord Shiva and based on typical five-part design, which consists of Garbha Griha, Ardhamandapa, Pradakshina and Mahamandapa supported with pillars. The borders of the walls are carved with images of elephants and horses, warriors and hunters, acrobats and musicians, dancers and devotees. It is the only local temple, which has preserved two beautifully designed interior ?toranas?, both having a delicate design.

Shilpgram
Shilpgram was established in 1998 by the government to preserve the culture and tradition of the country. The open-air site is thronged by tourists during evening to view the beautiful performances of classical and folk dancers.

Raneh Falls
Raneh falls is situated in close vicinity of the destination; the waterfall emerged at the confluence of Ken and Khuddar rivers. The surroundings of the falls are adorned with crystalline granite, which is present in varying shades ranging from pink, red and grey.

Lakshmana Temple
Lakshmana Temple is dedicated to Lord Vishnu. It is a huge stone temple of Khajuraho. This east facing temple is famous for housing more than 600 images of gods and goddesses of the Hindu mythology. The platform of the temple is beautifully decorated with patterns of elephants and horsemen carrying out parade.

Parsvanath Temple
Parsvanath Temple is dedicated to one of the Jain tirthankaras, the temple is considered to be one of the largest Jain temples present in India. The temple lies in the protected zone of the city and was constructed in around 954 AD.

Chaturbhuj Temple
This west facing temple stands on a square platform, which can be approached by a staircase of ten steps. The temple also houses a carved image of 9 ft high, four armed Lord Vishnu. Apart from these, the temple also possesses another incarnation of Vishnu known as the Narasingha avatar and a Shiva?s incarnation Ardhanarishvara.

Archaeological Museum
Archaeological Museum is situated near the Matangeshwar Temple, was built by Mr. W.A. Jardine in 1910. The museum is a display centre of the loose sculptures and architectural ruins, which were collected from the temples of Khajuraho.

Kalinjar Fort
Kalinjar Fort is constructed by the Chandela rulers. It is is known for its vast collection of monuments and sculptures, which reveals many historic events and practices. Housing numerous temples and structures within it, the fortress represents an architectural expertise of the Chandela dynasty.

Ajaigarh Fort
It is believed that the fortress was constructedby Chandela Kings, is situated in close vicinity at the outskirts of Khajuraho. The fort offers a beautiful view of Ken River, which flows within the beautiful destination. Historians state that the huge structure was provided to the fort for protecting natives from attacks and encounters of enemies and outsiders.
Best time to visit Khajuraho
Khajuraho's climate is quite extreme, with wide variation in day and night temperatures along with minimal rainfall. Summers during April to September are hot, the maximum temprature 45 °C and minimum is 21 °C. Winters during December to February have a freezing minimum of 4 °C and maximum is 27 °C.

Best time to visit Khajuraho
Best season to visit here is October to March. Khajuraho dance festival held during 25th February to 2nd March every year attracts many tourists to the city. Dance festival takes place in an open air auditorium in front of the famous Chitragupta Temple.
How to Reach Khajuraho
By Air
The renowned Khajuraho is having a household terminal known as Town Airport Khajuraho area. It is situated at only 2 Km southern of Khajuraho city. Khajuraho airport is well connected to many cities in India, like Delhi, Mumbai, Varanasi, Bhopal, Indore, Allahabad and Mumbai. International travelers can get connecting flights to Khajuraho from Mumbai or Delhi.

By Train
The world famous Khajuraho has its own railway station, which is just around 5 km from the renowned places of Khajuraho, which is connected to most of the railhead in India.

By Bus
Khajuraho is one of the cities well connected by public and private buses. Private tour service operators arrange deluxe AC and Non AC buses to Khajuraho from various cities including Jhansi (177 km) and Delhi (594 km).