Periyar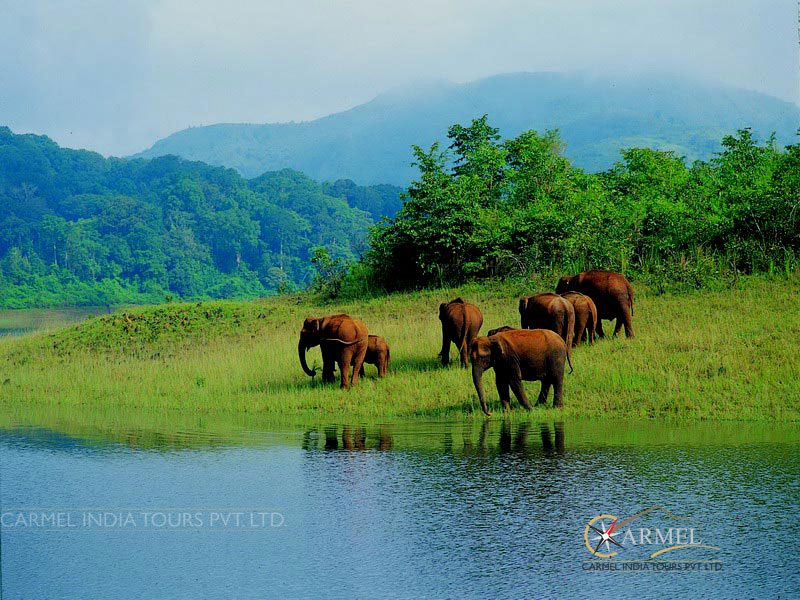 About Periyar
Periyar, also known as Thekkady is situated in the south Indian State of Kerala, on the high ranges of the Western Ghats. Best known for its most beautiful wildlife Sanctuary, which is a veritable paradise for all wildlife lovers. The Periyar wildlife sanctuary, is located high in the Cardamom Hills and Pandalam Hills of the southern Western Ghats along the border with Tamil Nadu. Periyar Lake lies at the heart of this sanctuary. It is one of the few places, where visitors can observe animals in their natural habitat.

In 1341, there was a big flood in Kodungallur and huge landslide caused in the closure of the Kodungaloor port, resulted in an island, which present-day known as Vyppin Islands. In 1895, a dam by the name of the Mullaperiyar was constructed across the Periyar River giving birth to the Periyar Lake which sustained the adjacent forests and its inhabiting animals. In 1934, the Periyar National Park 777sq km was established covering an area of 777sq km.

The sanctuary is a treasure of flora and fauna with a wide range of animals including tiger, elephants, leopards, deer, goats, the elusive Nilgiri tahr, three hundred and twenty species of birds like Thrushes, kingfisher, cormorants, darters, hornbills, and a wide variety of reptiles like King Cobra, the voluminous python and lizards. The visit is an open treat for wildlife lovers.
The Periyar wild life sanctuary also gives you an opportunity to participate in trekking, sailing on a bamboo raft down the Periyar Lake and the Periyar tiger trail
Best Places to Visit in Periyar
Periyar Wildlife Sanctuary
The Periyar Wildlife Sanctuary is the main attraction of Thekkady. Spread over an area of about 777 sq km, one of the natural treasure houses of some of the rare species of flora and fauna. Apart from the tigers, the fauna of the park includes wild elephant, gaur, sambar deer, wild boar, Nilgir Tahr, lion tailed macaque, bonnet macaque, Malabar giant squirrel, flying squirrel, tiger, jungle cat, sloth bear, hornbill, stork, woodpecker, kingfisher, raptor, cormorant, grackle, darter, cobra, viper, krait, monitor lizards, frogs, toads, masheer (famous and endangered game fish of India) and otter.

Periyar Lake
This splendid artificial lake formed by the Mullaperiyar Dam across the Periyar River adds to the charm of the park. The greatest attraction of Periyar Lake however is the herds of wild elephants that come down to play in the lake.

Murikkady
Murikkady is particularly famous for its panorama of cardamom, coffee and pepper plantations. Located at a distance of just 5 kilometres from Thekkady. Breathtaking views of the spice and tea plantations, the mist clad mountains and verdant valleys could be enjoyed at Murikkady.

Pandikuzhi
Sandwiched between Chellarkovil and the Tamil Nadu border, it makes an important excursion point for every tourists visiting Thekkady. Being an ideal picnic, trekking, and photographic spot, it is also the favourite day and weekend destination for the localities as well.

Vandiperiyar
A major trade centre, Vandiperiyar is also home to a number of tea factories. The Government Agriculture Farm and Flower Gardens have a delightful array of rose plants, orchids and anthurium.

Managala Devi temple
The temple dedicated to Kannaki is situated on the top of a hill in Periyar Tiger Reserve.

Gavi
The picturesque place of many choices; trekking, bird watching, outdoor camping and boating. Tropical forests and abundant plantations giving you the closest look at wildlife.

Kumily
Kumily is a small town located near Thekkady and Periyar in the Cardamom Hills, in the district of Idukki in Kerala. Other than being a major tourist destination, it is also a major spice-trading centre.

Kadathanadan Kalari Centre
Kadathanadan Kalari Centre is a major Kalari fight centre located in Thekkady where this martial arts form is practised in a designed gallery.

Vandanmedu
Vandanmedu is a very peaceful location where guided tours to these plantations are available. It is world?s largest cardamom auction centre because of its several plantations that are scattered all over the region.

Periyar Tiger trail
It is located within the lush forests and is popular for its adventure safaris. Visitors can enjoy sports like trekking, hiking and camping that are provided by the authorities over here.
Best time to visit Periyar
Best season to visit Periyar is September to March. Days are pleasantly warm and the nights are cold in Thekkady during winter. The best time for viewing elephants is during the hotter months of March and April, when they spend the most time in the water.

The summer in Periyar, March to Mayusually records a maximum of 36 °C and a minimum of 20°C. During the monsoon (July. August), it ranges from 19°C to 21°C. The winter season is cool and pleasant in Thekkady is between December and February when the maximum temperature is around 27°C the minimum at about 16°C.
How to Reach Periyar
By Air
The nearest airport from Periyar is located in Kochi, Kochi is 140kms away from Periyar and is an international airport. Several international and domestic airlines connect Kochi to major cities in India like Delhi, Mumbai. Another important airport close to Periyar is Madurai (200kms)

By Train
Kottayam is the nearest rail head from Periyar. A well-laid network of railways link Perilya to the major railway stations of South India and rest of the country.

By Road
An extensive road network covers Periyar connecting it to the major cities in Kerala and south India. You may choose to visit Periyar by road from places like: Kerala, Alleppey, Kumarakom.