Kumarakom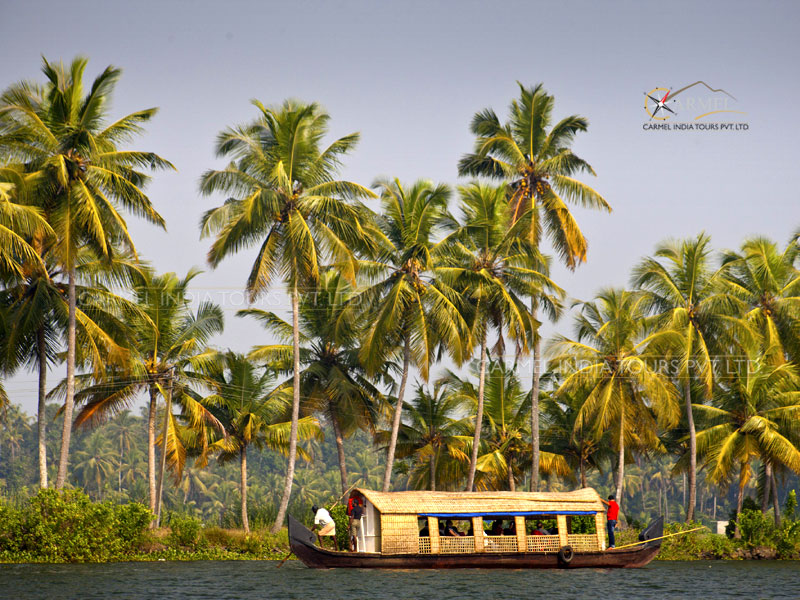 About Kumarakom
Kumarakom the 'Wonder Land', a tourist village is located near the city of Kottayam, in Kerala, India. This group of small picturesque islands is located in between the remarkable Vembanad Lake (The largest lake in Kerala) and the parallel network of calm backwaters. The name Kumarakom is derived from the Malayalam words 'Kumara' and 'aham', 'Kumara' refer as Lord Subhramanya and 'aham' for home, so Kumarakom means the home of Lord Subhramanya. This rapidly developing backwater tourism spot is 12 kms west of Kottayam town with the real beauty of Kerala and mangrove forests, lush green paddy fields, waterways, canals etc.

Kumarakom is man-made land; this small town was established by the Indian government as a part of a special preservation effort. The modern history of this exotic backwater village started in 1847, with Alfred George Baker, an English farmer. He found this place was fertile and most suitable for cultivation of rice and coconut trees. He built the History House, and his four generations lived in the house until 1962. After Baker, the Taj Group take over The Baker House and restored it into a luxury heritage hotel.

Kumarakom, on the backwaters is home to many rare varieties of migratory birds from different parts of the world, an Ayurvedic massage, yoga, meditation, boating, fishing and swimming are also the attractive activities for the visitors.
Best Places to Visit in Kumarakom
Vembanad Lake
Vembanad Lake is the longest lake in India. It is one of the most happening picnic spots here in Kumarakom. You can boat, fish, and enjoy pristine natural beauty of this place.

Kumarakom Bird Sanctuary
Kumarakom Bird Sanctuary spread over 14 acres of land. There is all kinds of birds here, right from wild duck, cuckoo, waterfowls, wood beetle, native kingfishers, flycatchers, larks, and parrots to migratory birds such as Siberian stork, teals, herons, darters, and egrets.

Juma Masjid
Juma Masjid lies on the banks of River Meenachil. It is one of the oldest mosques in India.

Thirunakkara Mahadeva Temple
This temple was constructed by Thekkumkoor Maharaja, with a special building named Koothambalam. The main deity of this temple is Lord Shiva and the temple walls are decorated with beautiful mural paintings.

Kumarakom Beach
Kumarakom Beach is located near this beach are replete with facilities like spa, ayurvedic massage centres, yoga training and other health related programmes.

Kumarakom Backwaters
Kumarakom Backwaters houseboats take visitors through the canals, lagoons, lakes, river and backwaters in the region.

Pathiramanal
The term Pathiramanal refers to ?the sand of night? or ?midnight sand? and features a zoo and an aquarium.This island covers over 10 acres of land and is inhabited by varied species of migratory birds.

Bay Island Driftwood Museum
It is a unique museum, which houses a collection of twisted stumps of driftwood that were collected from the Andaman and Nicobar Islands. Some of these articles are similar in appearance to animals, birds, reptiles, fishes and amphibians.

Vaikom Mahadeva Temple
This temple is associated with Rishi Parasurama, who was believed to be an incarnation of Lord Vishnu. It is situated at a distance of 8 km from Kumarakom.

Ettumanoor Mahadeva Temple
The word ?manoor? in the name of the place Ettumanoor means ?the land of deer?. Ettumanoor Mahadeva Temple is also believed that sage Vyasa and the Pandavas offered their prayers at this temple.
Best time to visit Kumarakom
Best season to visit Kumarakom is September to February is the best time to Kumarokam, and this period is ideal for sightseeing, houseboat trips, exploring flora and fauna as well as all types of tourist activities. It is also preferable time for enjoying honeymoon in Kumarakom.

Kumarakom experiences a tropical climatic condition. Summers (March to May) days are accompanied by warm climate and the temperature reaches up to a maximum of 37°C and minimum 20°C. Winters (November to February) are pleasant and temperature goes down to a minimum of 18°C and maximum 32°C.
How to Reach Kumarakom
By Air
The nearest airport from Kumarakom is the Cochin International Airport, which is 70 kms from Kumarakom. The Thiruvanathapuram(Trivandrum) International Airport is 171 kms from Kumarakom.

By Rail
Kottayam is the nearest railway station. There are regular local and express trains, which connect Kumarakom with major cities in India.

By Road
Kottayam, the main road junction is just 14 kms from Kumarakom. Kumarakom is also well linked with all the major cities in India through the State and National Highways.

By Water
From Trivandrum International Airport, you can come to Quilon by road or rail, and thereafter, you can take the regular ferry service to Alleppey ? a long and delightful ride on Kerala?s backwaters. From Alleppey, it?s just a short ride to Kumarakom.