Kollam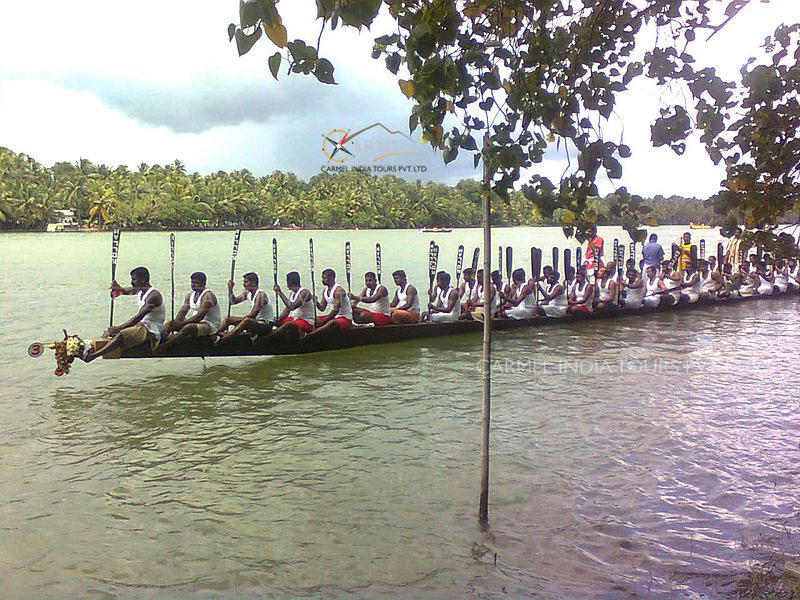 About Kollam
Kollam, the gateway to Kerala's beautiful backwaters lies on the banks of Astamudi Lake, in the Indian state of Kerala. This dreamland city of Kerala is also referring as Quilon or Desinganadu. According to believe Kollam derive its name from the Sanskrit word Kollam, meaning pepper. The region has a reputation for cashew plantations and also known as the capital of Kerala?s cashew industry from which the main economy of Kollam is dependents. Kollam is called ?The Gods Own Capital? as it is gifted with unique representative features like rivers, streams, backwaters, forest, vast green fields, sea, lakes, plains, mountains, and tropical crop of every variety both food crop and cash crop.

Kollam has some interesting historic remnants. The Malayalam era also known as Kollam era, was established by the ruler of Kollam, Marthanda Varma in 825 AD. There was a very good trade regarding relations between Kollam and China they even exchanged their embassies. In 1502 Portuguese, the first Europeans were establishing a trading center in Kollam and were followed by the Dutch and then the British in 1795. Later during the rule of Velu Thampi Dalawa of Travancore, the merchants from Chennai and Tirunelveli came here and settled. Gradually this small town flourished and a number of bazaars were built here. .Speaking of culture, Ramanattam, the dance form of Kathakali originated in Kollam.

Kollam is a quite interesting place with Ashtamudi Lake with its scenic beauty, houseboats, ayurvedic centres, natural beauty, glorious heritage, various cultures. The most attractive and enchanting experience on the backwaters of Kerala is the eight hour boat trip between Kollam and Alappuzha.
Best Places to Visit in Kollam
Aryankavu
Aryankavu, is the pilgrimage centres in the Kollam District, it is devoted to Lord Sastha. The Palaravi Waterfall, situated around 5 km away from Aryankavu, is another prime attraction of this place.

Thangassery
This place has several old churches, established in the 18th century. It is situated just 5 km away from the main town of Kollam.

Kulathupuzha
Kulathupuzha is a village, situated on the main Thiruvananthapuram-Shencottah Road, Sastha temple on the banks of the Kulathupuzha River and The Kulathupuzha Reserve Forest are the prime attraction of this village.

Punalur
Punalur is popular for a 400 ft long suspension bridge that was built in 1877. It is the sole suspended-deck type bridge in India, built and designed by Albert Henry.

Pathanapuram
It is one of the major trading centres in the Kollam District, situated 13 km away from Punalur along the banks of the Kallada River.

Oachira
Oachira is a unique pilgrim centre, situated on the Kollam-Alappuzha main road

Pattazhi
The old Pattazhi Temple, dedicated to Goddess Bhagirathi, is one of the prime attractions of this place.

Mayyanad
Mayyanad is situated 10 km away from the Kollam town. Lord Subramanian temple at Umayanallor is one of the most popular attractions of this town.

Ashtamudi Lake
Ashtamudi Lake is one of the largest and deepest wetland ecosystems in Kerala, also known as the gateway to the backwaters of Kerala.

Thirumullavaram Beach
Thirumullavaram Beach is a clean and quiet beach, considered suitable for sunbathing and swimming, situated 6 km away from the main Kollam town.

Mahatma Gandhi Beach and Park
Mahatma Gandhi Beach and Park is suitable for taking long walks along the shoreline. It is situated just 2 km away from the Kollam town.
Best time to visit Kollam
The climate of Kollam is tropical and humid with regular showers almost throughout the year. Summer (March to May) temperatures range between 25 and 32 degree Celsius. Winters (November to February) witnesses a drop in temperatures ranging from 18 to 25 degree Celsius, making it the ideal time to visit.

Best Time to Visit
The best time to visit the place is between October and April.
How to Reach Kollam
By Air
Thiruvananathapuram International Airport situated at Valiyathura is the nearest air connection which connects the city with other major Indian and international cities. Indian Airlines has connections with Delhi, Mumbai, Bangalore and Chennai while overseas cities include cities in the Middle East, Male and Sri Lanka.

By Rail
Kollam is an important railhead of the south railways where all the major trains on the route take a halt. Kollam is connected by rail with several important cities of Kerala and India.

By Road
An excellent network of roads connects Kollam with other cities in Kerala. KSTRC (Kerala State Road Transport Corporation) buses ply regularly between Kollam and other neighbouring cities.