Alleppey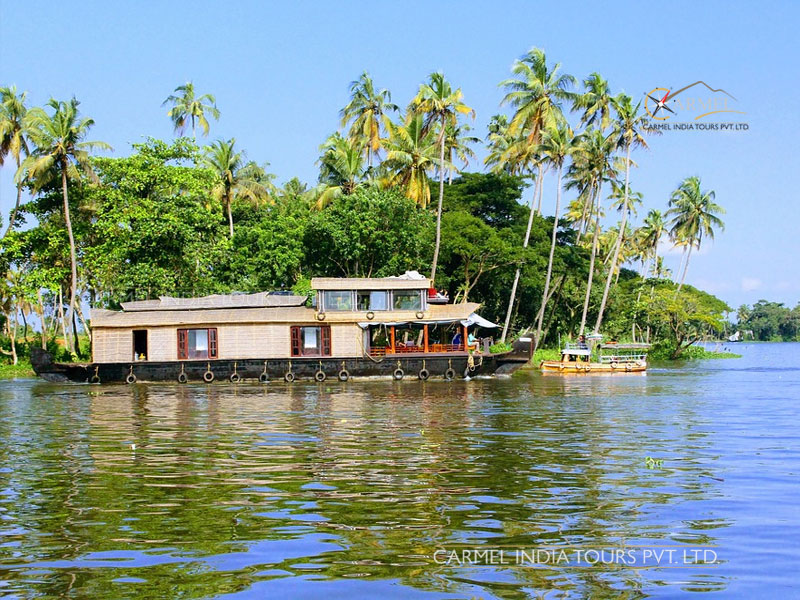 About Alleppey
Alleppey, also known as Alappuzha is situated on the edge of the great Ashtamudi Lake in Alappuzha District of Kerala state of southern India. Alappuzha is derived from two words, Ala and Puzha, Ala means broad and Puzha is river, Alappuzha, means the land between the sea and a network of rivers flowing into it. Alappuzha is a city of great natural beauty with its vast network of flowing rivers, lagoons and fresh water lakes, crisscrossing rivers, picturesque canals, backwaters, beaches. It is also refers as 'Venice of the East' by Lord Curzon. Fascinated by the Scenic beauty of Alappuzha, Lord Curzon said, 'Here nature has spent up on the land her richest bounties.'

Alappuzha was founded in the second half of the 18th century by the Raja Kesavadasan, the Dewan of Travancore. Alleppey has a wonderful past. But when Raja Kesavadasan, founded the town there was just one canal through the strip of sand between the backwaters and the sea. But this soon grew into a bustling waterway, with shops, factories and commercial establishments springing up on either bank of the canal. This attracted merchants from other parts of the country. Today Alappuzha is still a major center for trade in coir, copra and coconut oil.

In present time this city is an important tourist destination in India, beckoning thousands of foreign tourists each year. Alleppey is famous for its Boat races, Houseboat Holidays, Beaches, Marine Products and Coir Industry and Nehru Cup Snake Boat Race, a water sport unique to Kerala.
Best Places to Visit in Alleppey
Alappuzha Beach
Alappuzha beach is one of the most popular spots in Alleppey. Here Vijay Park and Sea View Park are all spectacular sights one should never miss. Boating Facility is available in both Parks.

Krishnapuram Palace
Krishnapuram Palace is a double storied structure which displays typical characteristics of Kerala architecture. Inside is also a museum of antique sculptures, paintings and bronzes.

Ambalappuzha Sree Krishna Temple
The Sri Krishna Temple at Ambalapuzha,is situated at 14 kms from Alleppey. It was in this temple that the 16th century poet Kunjan Nambiar staged his first Ottan Thullal, a solo dance performance with high social content.

Pathiramanal (An Island)
This is a small beautiful island in the Vembanad Lake and is accessible only by boat from Kumarakom and Muhamma.

Kuttanad
It lies at the very heart of the backwaters and is called the rice bowl of Kerala because of its wealth of paddy crops.

Vijaya Beach Park
This is the Picnic spot with children?s park & boating facilities.

Chavara Bhavan
Chavara Bhavan is a holy shrine and spiritual resort where thousands of devotees gather for prayer, receive favours and feel amply gratified.

Vembanad Lake
Vembanad Lake is India?s longest lake and also the largest lake in Kerala and India. It is at the centre of Kerala Backwaters tourism with a myriad ketuvallams (houseboats) crowding it.
St Andrews Church
The construction of this church began in 1864; however it was completed in 1866. It is one of the most popular churches.

Kumarakom Bird Sanctuary
Kumarakom Bird Sanctuary is Sprawling over an area of 14 acres; the bird sanctuary is home to several varieties of birds. These birds can be spotted at this sanctuary at any given time.

Mullakkal Rajeshwari Temple
Mullakkal Rajeshwari Temple is located in the heart of Alappuzha city and dedicated to the goddess Rajeshwari. One of the most famous temples of the region.

Champakulam Church
It is also one of the oldest churches located in the state of Kerala. It is also known as St. Mary?s Church is one of the most popular tourist attractions.
Best time to visit Alleppey
Best time to visit Alleppey
The best season to visit the place is between Septembers to March offers pleasant climate making it perfect for sightseeing. It is the best period for Alleppey tourism and honeymooning. Tourists can enjoy beach activities, houseboat vacations and backwater explorations during this period.

Alleppey, being a coastal area, is humid all through the year. Summers (March to May) have a dry and humid weather with maximum temperature reaches to nearly 37°C and minimum 20°C. Winters (November to February) are pleasant with temperature between 17°C to 32°C.
How to Reach Alleppey
By Air
The Cochin International Airport, located at a distance of 75 kiolmetres is the nearest airport to Allepey. The airport is well connected to major cities in India as well as abroad.

By Train
The Alleppey Railway Station lies within the city limits and is well connected by rail to Kochi or Cochin, Thiruvananthapuram, Kozhikode, New Delhi, Chennai, Bengalooru or Bangalore, Coimbatore, Mumbai or Bombay and Kolkata.

By Road
Alappuzha is well-connected to almost all the major cities by road. Traveling to Alleppey by road is a pleasurable experience because of the surrounding atmosphere.