Rajgir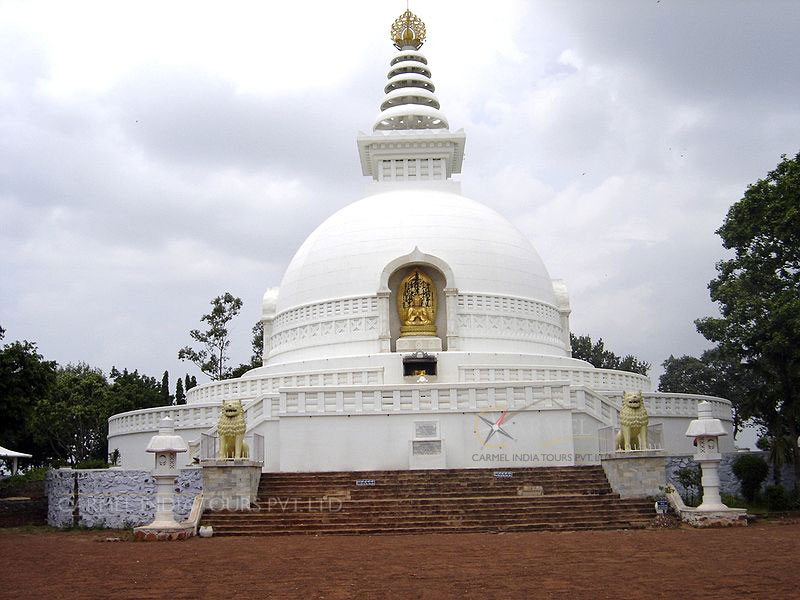 About Rajgir
Rajgir, an outstanding Buddhist site is situated Nalanda district in the Indian state of Bihar. Rajgir is the most colorful Tourist Destination located in a valley with Waterfalls, Hills, Forests, Gardens, numerous forts and much more. The city, surrounded by seven hills, the most religious and holy place for Hindus, Buddhists and Jains.
According to the legends Gautama Buddha spent a few months of meditation here and sermonizes at Griddhkuta, known as the 'Hill of the Vultures'. The Magadha king Bimbisara highly influenced by the sermons of Gautama Buddha thereafter he chose to follow Buddhism. Thus Rajgir became a main Buddhist centre in India because not only king but also countless others chose Buddhism.It is also the place where the teachings of Buddha were penned down first time. Lord Mahavira also spent his fourteen years at Rajgir and Nalanda. A hindi leagend is also associated with this place, this is the place where Bhima killed Jarasandh into two and threw his body parts opposites to each other so that they could not join.

Today Rajgir is well known for its some very awesome Hindu and Jain temples which attract a number of tourists; there is also some health and winter resort with its warm water ponds. It is believe that these ponds contain some medicinal properties which help in the cure of many skin diseases.
Best Places to Visit in Rajgir
Griddhakuta Hill
Griddhakuta Hill, the Hill of Vultures is the place where the Buddha converted the great Mauryan king Bimbisara, one of his most celebrated followers and delivered many of his sermons. He also spent most of his summers on this hill.

Saptaparni Cave
Saptaparni Cave is situated on the Vaibhara Hill. It is the place where the first Buddhist council was held after the 6 months of Buddha?s death and his teachings were written down for the first time.

Vishwa Shanti Stupa
This stupa can be reached by an aerial ropeway and dedicated to the world peace. This large white monastery has four golden statues of the Buddha representing his birth, enlightenment, preaching and death. The Japanese also built a large temple, known as the Nipponzan Myohoji.

Bimbisara Jail
Bimbisara Jail reminds one of the devoted Maurayan King Bimbisara, who, being a Buddhist chose this as a place to spend his last days. From here he could see Buddha climbing up the Grihakuta Hill to do his meditation.

Cyclopean Wall
Once 40 Km long, it encircled ancient Rajgir. The wall is one of the few important Pre-Maurayan stone structures ever to have been found.

Sonbhandar Caves
Two rather strange cave chambers were hollowed out of a single massive rock. The doorway is supposed to lead to King Bimbisara Treasury.

Hot Springs
These hot springs are situated at the foot of the Vaibhava Hills. The Brahmakund spring amongst these is considered to be the hottest one with a temperature of around 450 Celsius. Tapoda rivulet of hot water was the water spring where even Lord Buddha and Lord Mahavira had taken bath. The water of these hot springs is also considered to have medicinal properties.

Jivaka?s Mango Garden
These ruins lie on the way to the ropeway station of Griddhakuta Hill. Jivaka was also a great follower of Lord Buddha and has also gifted him this mango garden.

Swarna Bhandar
warna Bhandar is an ancient cave site located in the town of Rajgir in Nalanda District. Literally meaning the ?store of gold?, this site is also known as Bimbisara Bhandar or Sonbhandar Caves.

Ruins of Nalanda University
The ruins of Nalanda University are another popular attraction of Rajgir. This site is situated in the town of Nalanda, at 15 km from Rajgir. These are the ruins of the oldest Buddhist University that used to accommodate 10000 students, 2000 teachers and 9 million books.

Ghora Katora Lake
The site of this lake is believed to be the place where the stable of Jarasandha was situated. Jarasandha is a famous character from the Hindu mythological epic, Mahabharata. The Ghora Katora Lake is one of the popular picnic spots of Rajgir.

Ashoka Stupa Peak
Ashoka Stupa Peak consists of the remains of a brick stupa atop a hill. According to the Buddhists, it was Emperor Ashoka himself, who built this stupa, as a mark of respect to Griddhakuta
Best time to visit Rajgir
The town of Rajgir experiences three main seasons and these are summer, monsoon and winter seasons. In summer temperatures can vary from a low of 20 degrees Celsius to a high of around 40 degrees Celsius during the summer season. Winters are cold and temperatures can drop below 10 degrees Celsius frequently.

Best Time to Visit Rajgir:
The best time to visit Rajgir is between October and March when the weather is pleasant which the peak season to go to Rajgir is. The Chhath Puja honoring the consort of the sun god or Chhathi Maiya is organised during this period, so you can participate in the festivities at this time of the year.
How to Reach Rajgir
By Air
Loknayak Jai Prakash International Airport, Patna is the nearest airport, about 100 kms, for Rajgir. There are regular flights to/from Delhi, Calcutta, Varanasi, Lucknow, Mumbai, and Katmandu from this airport.

By Train
Rajgir railway station is the nearest rail point which is connected to major cities like Delhi, Kolkata and Patna. Another convenient railhead is the one at Gaya, which 78 kilometers from from Rajgir.

By Road
Rajgir is connected to the rest of the country by extensive network of roads. The nearest cities to Rajgir are Patna at 110 kilometers, Nalanda at 12 kilometers, Gaya at 78 kilometers, and Pawapuriat 38 kilometers. There are buses available from these cities to Rajgir on a regular basis.